Another manic Monday! Am I the only one who has super, crazy, busy Monday's?🤪
If you're looking for a twist on your typical (boring) chicken dinner; you have to try this Baked Bruschetta which if I can add, is topped with homemade croutons and a sweet balsamic glaze. Listen, my goal is to never steer you down a flavorless path and I strive to keep it simple, saving you time!
Jump to Recipe
With that said, all toppings are optional (well, really just the homemade croutons) BUT if you're having one of those good weeks and you're feeling a little fancy, you have to try these out and can message me "thanks" later! 🙂
I taste-tested each layer so depending on your preference, it's amazing with the chicken and bruschetta alone but again, life is good most times, just take the extra five minutes and prepare the croutons, ok?
Let's get right to the recipe!
Prep the chicken by pounding thin if thick to cut cooking time in half. Add cooking oil, garlic paste and seasonings to chicken breasts and massage until thoroughly coated. Place chicken in grill pan on high heat for 5-7 minutes, flip and finish in oven on 375 degrees for 5-7 until thoroughly cooked through.
While the chicken breasts are finishing in the oven, prepare the bruschetta by dicing tomatoes, garlic, red onion and basil. In a bowl, place diced ingredients adding red wine vinegar, salt and pepper to taste and set aside.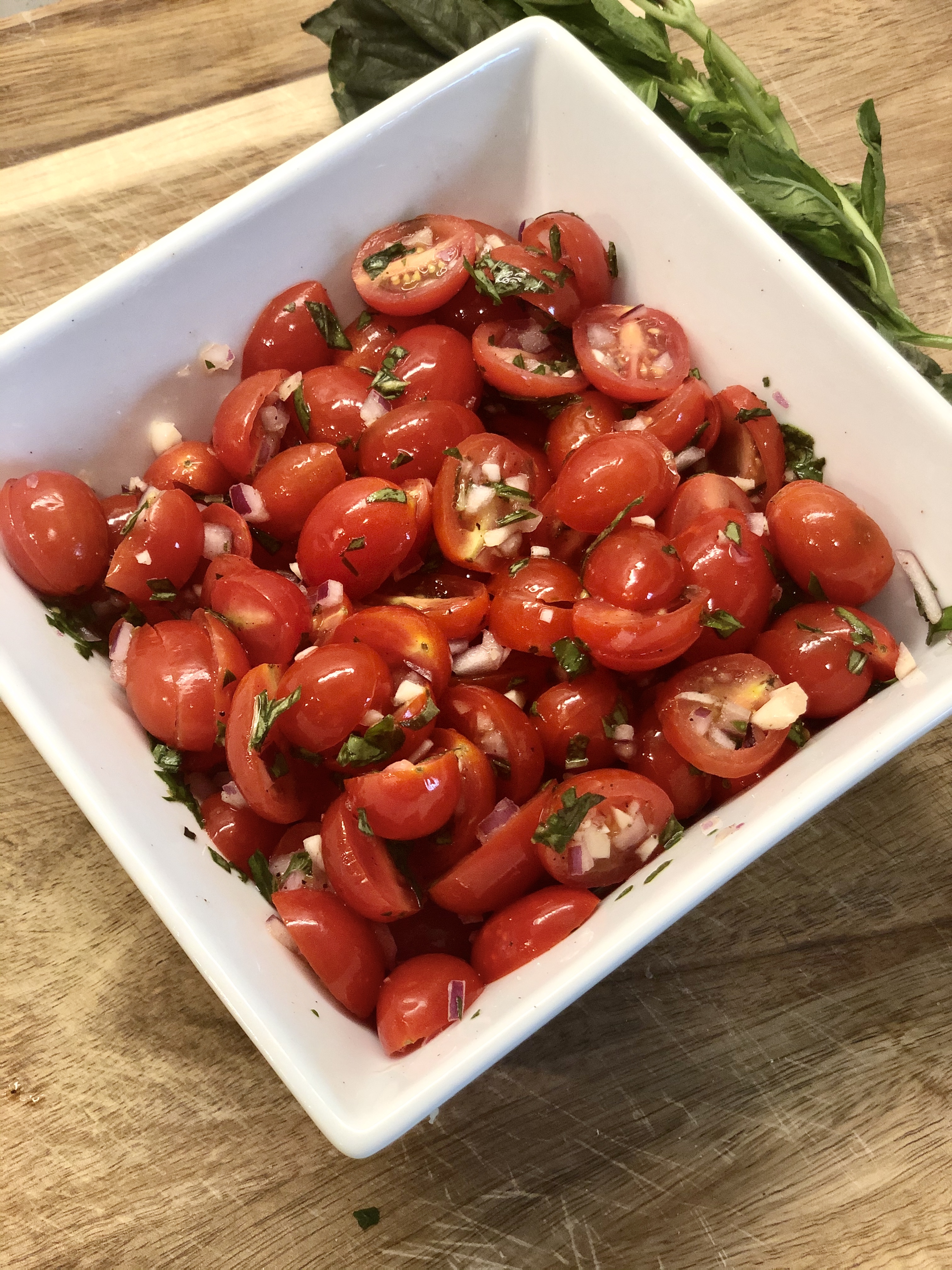 Prepare the homemade croutons by cutting 3, 1" slices of an Italian loaf and then slice into small cubes. Place cubes in a bowl and add oil, parsley and garlic paste, stir until well combined and set aside.
Chicken breasts should be close to being done in the oven and lastly, thinly slice mozzarella cheese and set aside. Gather all ingredients to assemble for one final trip to the oven!
In the same pot or pan that the chicken was baked in, place bruschetta mixture on top of chicken breasts spreading evenly across. Add mozzarella slices and top with homemade croutons. Place on broil for 3-5 minutes until cheese is bubbly and croutons are toasted.
While baked chicken bruschetta is on broil, begin preparing the balsamic glaze by adding vinegar to pan on med/high heat. Let vinegar boil and reduce and add honey. Stir until thick and well combined.
Remove baked bruschetta chicken from the oven and drizzle balsamic glaze on top. Allow to cool, serve and enjoy!
Baked Bruschetta Chicken
If you're looking for a twist on your typical (boring) chicken dinner, you have to try this Baked Bruschetta Chicken. Topped with fresh mozzarella, homemade croutons and a sweet balsamic glaze it wil
Ingredients
Chicken Breasts
1.5

lb

Chicken Breasts

8

oz

Fresh Mozzarella

1

tb

Season All

1

tb

Italian Herbs
Bruschetta
10

oz

Cherry Tomatoes

3

cloves

Garlic

¼

cup

Red Onion

.5

oz

Basil

1

tb

Red Wine Vinegar

Salt + Pepper

to taste
Garlic Croutons
1

tb

Olive Oil

1

teaspoon

Garlic

1

tb

Parsley

Salt + Pepper

to taste
Balsamic Glaze
¼

cup

Balsamic Vinegar

1

tb

Honey
Instructions
Par-cook Chicken Breasts
Take 1 teaspoon oil and garlic paste and rub over chicken. Season chicken breasts with Italian Seasoning and Season All.

In a pan on medium/high heat, sear the chicken for 5-7 minutes.

Flip and finish in oven on 375 degrees until cooked through. (between 5-10 minutes depending on oven)
Bruschetta
Dice cherry tomatoes in half and place in a medium sized bowl

Roughly chop garlic, red onion and basil and place in bowl

Add red wine vinegar to bowl

Season with salt and pepper and stir
Garlic Croutons
Slice French Bread to 1" slices, dice into small cubes and place in a bowl

Add olive oil, garlic, parsley and season with salt and pepper, stir
Balsamic Glaze
In a small sauté pan on medium/high heat, add balsamic vinegar to pan

When vinegar comes to a boil, reduce heat and stir in honey

Cook sauce until vinegar completely reduces and thickens
Baked Bruschetta Chicken
Turn oven to broil (500 degrees)

Once chicken is cooked through, remove from oven and top with bruschetta, fresh mozzarella and garlic croutons

Place mixture on broil for 3-5 minutes until cheese is bubbly and croutons are crispy

Remove from oven and drizzle balsamic glaze over dish