This Blue Margarita Recipe is not only aesthetically pleasing but tastes as good as it looks! Made with Blue Curacao, my homemade sour mix and blanco tequila, this cocktail is perfect for entertaining or lounging outdoors on a warm day!
Want to try more of my favorite margaritas? You have to try this Jalapeno Pineapple Margarita, Jalapeno Blackberry Margarita or the best Sangria Margarita with homemade sour mix!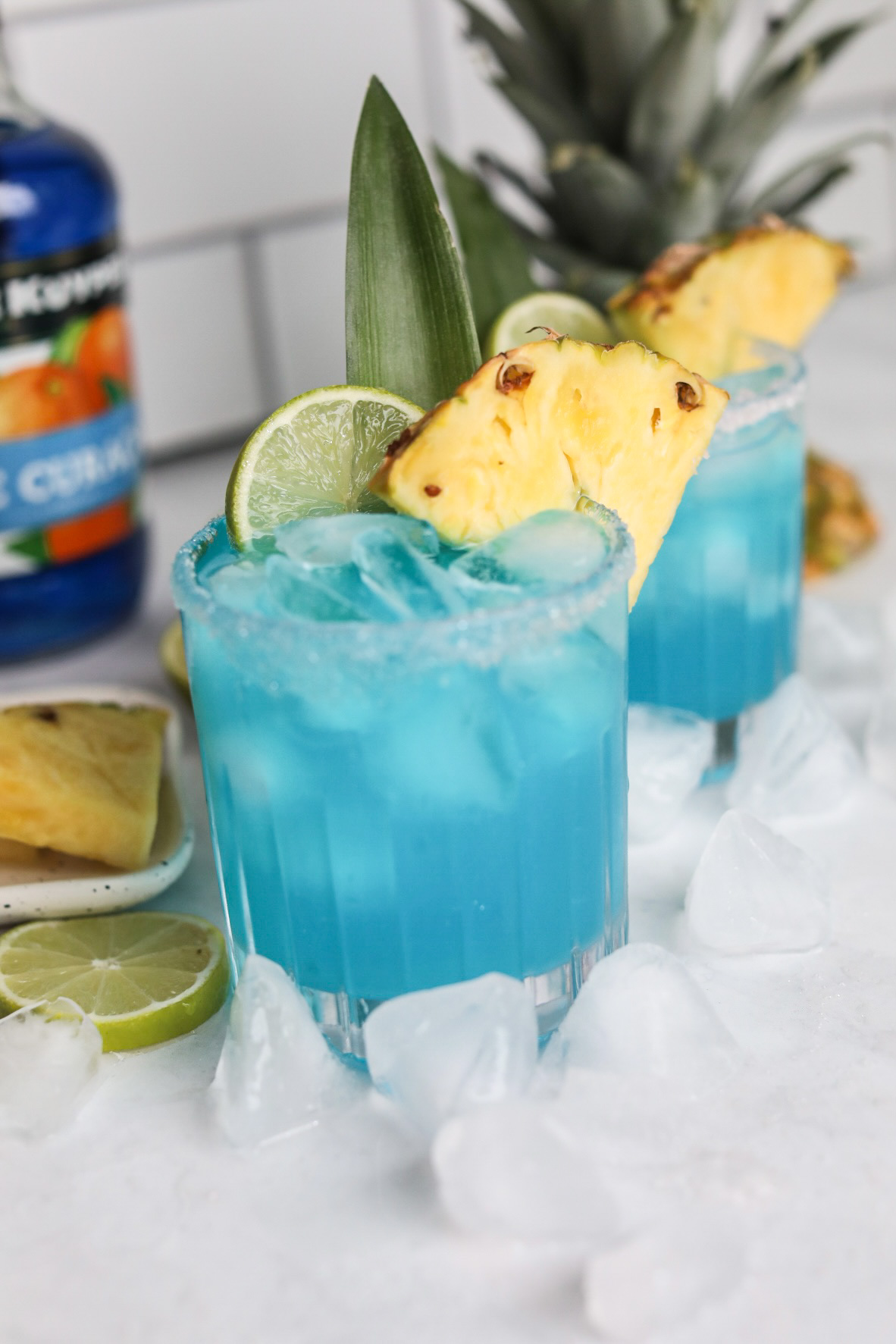 At times, you are in the mood for a cocktail and one that looks 'pretty'. With that said, this blue margarita foots the bill! With a classic margarita recipe as the base, add one additional ingredient that not only turns the hue of this cocktail a vibrant blue, but adds a pleasing sweet and tart flavor.
Jump to:
WHY YOU'LL LOVE THIS BLUE MARGARITA RECIPE
Fun to prepare and beautiful cocktail. As mentioned, this cocktail is so much fun to make and not only that, this cocktail definitely fits the category of a pretty drink. With the color of the cocktail and fun garnishes, this cocktail is perfect for entertaining and wowing guests!
Simple and Easy Ingredients. This cocktail is made with three simple ingredients. You certainly will have most of the ingredients on hand and may need to make a quick trip to the store for the Blue Curacao.
Double or Triple the Recipe. Want to make a larger batch and prepare it in a pitcher? This cocktail is perfect for that. Simply double or triple the ingredients, you'll still have a delicious and beautiful drink to serve!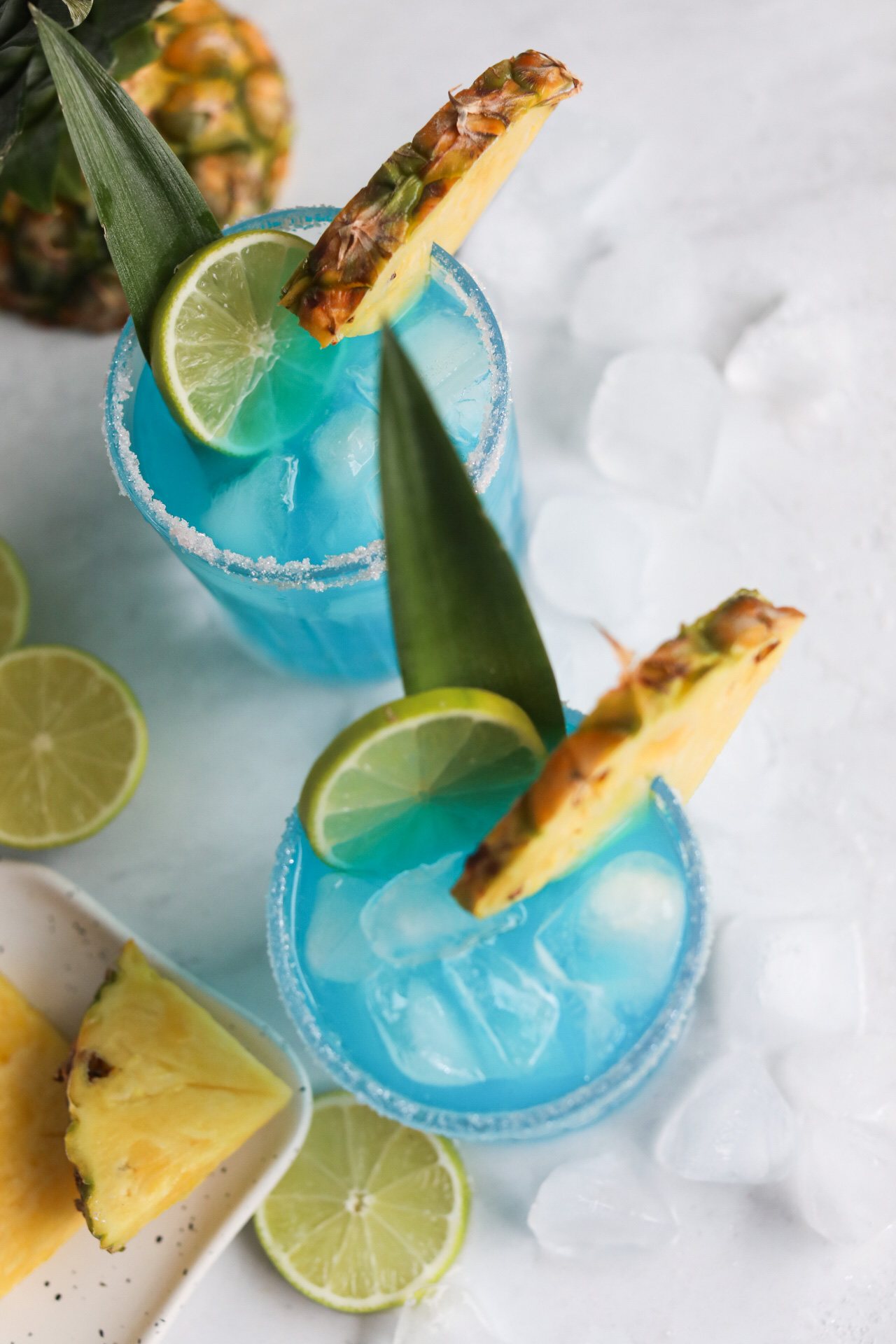 WHAT IS A MARGARITA?
A traditional margarita consists of Tequila, Triple Sec, and lime juice. Served with a salted rim, this popular cocktail has history dating back to the early 1960's and has origins in Tijuana, Mexico.
This cocktail has many variations added throughout the years that you are certainly familiar with. Served, frozen, on the rocks, Texas style or with fruit additions just to name a few. Furthermore, there is even a 'skinny' version that promotes less calories using fresh lime juice and honey, cutting out the carbs and extra sugar.
Whatever your vice is, there is no secret why this drink has such great popularity.
WHAT IS A BLUE MARGARITA?
Coupled with traditional margarita ingredients; Tequila, Triple Sec and lime juice, adding the Blue Curacao liqueur, simply makes this a blue margarita. The flavor is slightly 'elevated' compared to the traditional. With notes of orange (from the liqueur) sweet, sour and tart, this cocktail is strong enough to stand on its own!
The name surely speaks for itself and in this instance, describes perfectly what one can expect when indulging. Keep reading on, you will learn why this is such a great cocktail to add to your repertoire!
WHAT IS BLUE CURAÇAO?
As mentioned, blue curaçao is a liqueur meaning part alcohol, part fruit. This liqueur is flavored with the dried peel of the bitter orange laraha, a fruit grown on the Dutch island of Curaçao.
The liqueur is dyed a rich blue giving it the popular look that is easy to identify in stores and bars. The vodka content is normally 20-25% and has a sweet but bitter feeling.
So, next time you are in the market to plan for a Caribbean excursion, consider adding Curaçao to your destination list!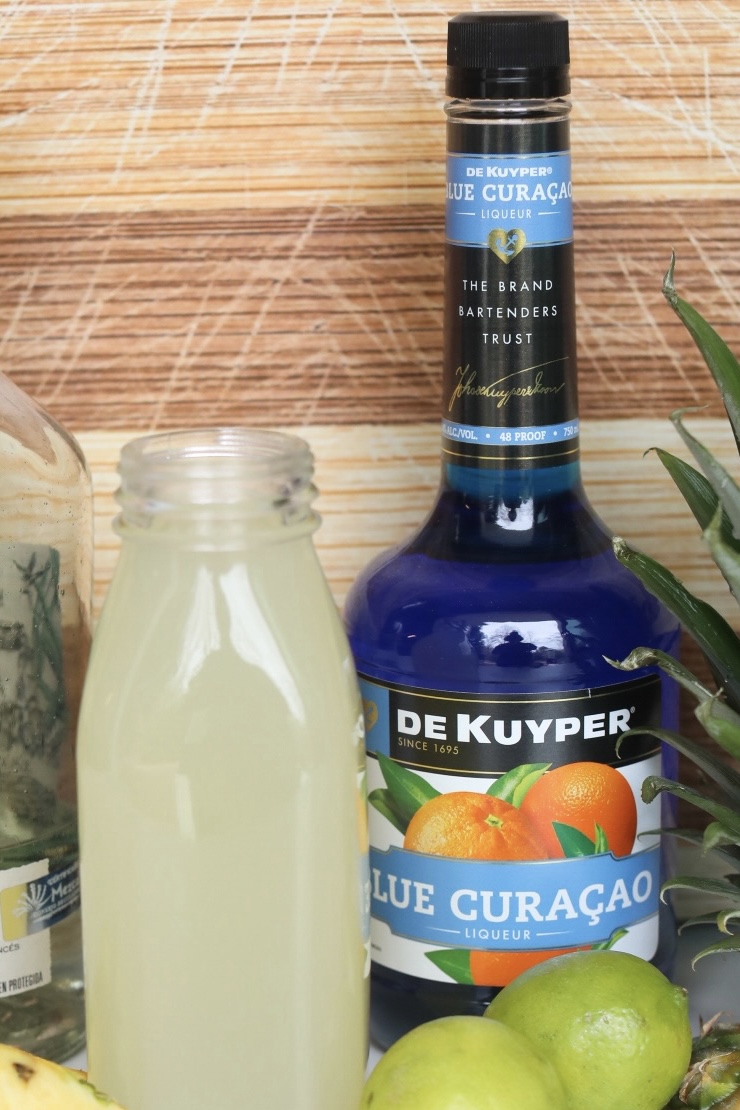 BLUE MARGARITA INGREDIENTS
You will need to grab just three basic ingredients to prepare this beautiful cocktail.
Tequila. Blanco works best with this recipe but absolutely use what you have on hand. I had a Mezcal from Codigo that was satisfying. Again, use what you prefer, just get the good stuff.
Sour Mix. Most recipes will call for lime juice. I prefer to use my homemade sour mix that has hints of fresh lemon and lime juice. This new addition really helps to bring the flavors together. You can certainly use lime juice but take the extra minutes to prepare your own sour mix.
Blue Curaçao Liqueur. This tasty ingredient is the star of the show as mentioned throughout the blog post. Scroll up to read more about its rich history. My favorite brand is by DeKuyper and is always easy to find at my local spirits store.
Garnish. You can't create a beautiful cocktail without adding the right garnishes. If you have access, grab a fresh pineapple, lime and we will also use the stem from the pineapple to garnish this tasty treat.
HOW TO MAKE BLUE MARGARITA
This recipe can come together in as little as five minutes. If you are daring and will prepare the homemade sour mix, tack on another 15-20 minutes and I promise it'll be worth your time. You won't use the entire amount so store it in the fridge and use it at a later time.
PREPARE THE HOMEMADE SOUR MIX
My goal is to always show you how easy it is to prepare most store-bought items at home. While I believe in inconvenience as well, when I have the time, I prefer homemade over store bough any day!
Here is what you will need to prepare the sour mix.
Lemon
Lime
Sugar
Water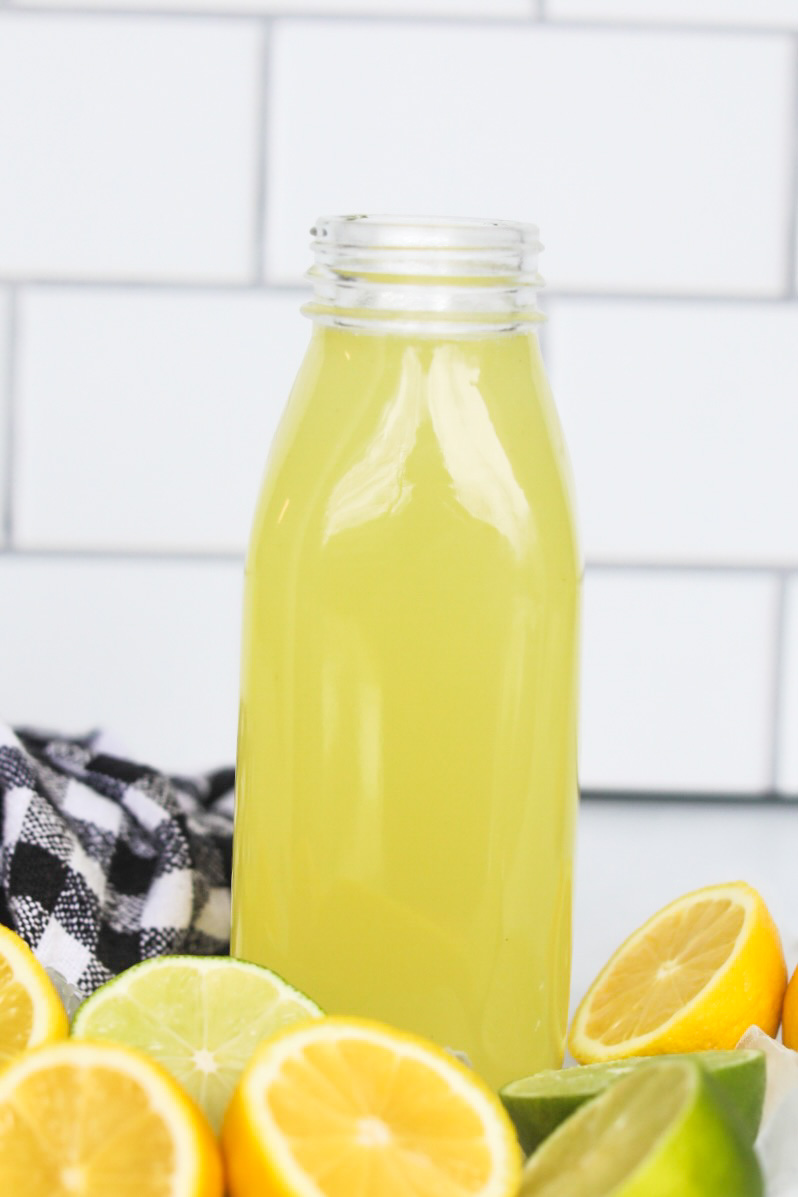 To learn how to prepare this delicious cocktail mixer (or perfect for homemade lemonade or punch), tap here!
HOW TO SALT THE RIM OF THE COCKTAIL GLASS
This cocktail is best served in short glasses mostly used for sipping style drinks. I used an amazing salt that has edible glitter and it legit took the cocktail to the next level. As the drink is consumed, the glitter sprinkles into the cocktail which makes it truly sparkle.
First, grab a small plate and add about two tablespoons of water. You can also take a sliced lime or lemon and moisten the rim of the glass. Either way, you will take the rim of the glass and add the liquid of your choice only to the rim.
Then, roll the glass (only the rim) onto the salt ensuring the entire rim is slightly covered with a small 'line' of salt. Lastly, place the coated glasses aside and prepare the blue margarita.
PREPARE THE COCKTAIL!
In a cocktail shaker, fill with about a ½ cup to 1 cup of ice. Next, pour in the tequila, sour mix and blue curaçao. Shake vigorously for 10-15 seconds making certain the ingredients are well combined.
Finally, using a strainer, pour the blue margarita evenly into the two short glasses that are dressed with the salt (be sure to add a few large ice cubes to the glass). Garnish with a sliced pineapple (that will be delicious to eat afterwards), sliced lime and a pineapple stem- for good measure.
Serve immediately and enjoy!
TIPS AND TRICKS FOR BEST RESULTS
This cocktail is best served immediately, prepare this when you are ready to serve. You can certainly prepare the sour mix ahead of time and store in the refrigerator.
If you do not want to make the homemade sour mix, simply omit and add simple syrup.
Use quality tequila. Enough said here right? 🙂
Double, triple or quadruple this recipe and serve it right out of a pitcher. Your guests will love this cocktail either way!
The ice will melt fast and will dilute the drink, adding ice is optional better yet, the bigger the ice cubes the better.
You can serve this cocktail "neat" (without ice) as it will have chill since it's been shaken in the cocktail shaker.
Try this frozen. Simply add about one cup of ice and blend this drink for an elevated surprise of chill and texture!
I HOPE YOU ENJOY THIS BLUE MARGARITA RECIPE!
If you try this recipe, I'd love to see it! Share it with me on Facebook, Instagram, or Pinterest.
Blue Margarita Recipe
A fun twist on the classic margarita, this Blue Margarita is not only aesthetically pleasing but tastes as good as it looks! Made with Blue Curacao, my homemade sour mix and blanco tequila, this cocktail is perfect for entertaining or lounging outdoors on a warm day! 
Equipment
1 Cocktail Shaker

1 Strainer
Ingredients
1

tablespoon

Coarse Salt

rim the cocktail glass

4

oz

Tequila

2

oz

Blue Curacao

2

oz

Homemade Sour Mix

triple sec

½

cup

Ice
Garnish
2

slices

Fresh Pineapple

sliced in wedges

2

slices

Lime

wedge or rounds

2

Pineapple Stems/Leaves

optional
Instructions
To rim the glasses, moisten the rim of the short glass by using water on a small plate or a wedge of lime. Ensure the rim is thoroughly coated (and moistened).

Pour salt onto a flat surface and roll the rim of the cocktail glass with salt ensure the entire rim is covered with a think line of salt.

In a cocktail shaker with ice, pour in the tequila, sour mix and blue curaçao.

Shake vigorously for at least 15 seconds, ensuring all ingredients are well combined.

Using the dressed short glasses with salt, evenly pour the blue margarita cocktail into each glass.

Garnish with sliced pineapple, pineapple stem and each glass with a sliced lime.

Enjoy and drink (and enjoy) responsibly!