In just 30 minutes, this easy one pot skillet sausage lasagna is on the dinner table. Filled with lasagna, spicy sausage, hearty marinara and four cheeses, your family will ask for this again and again!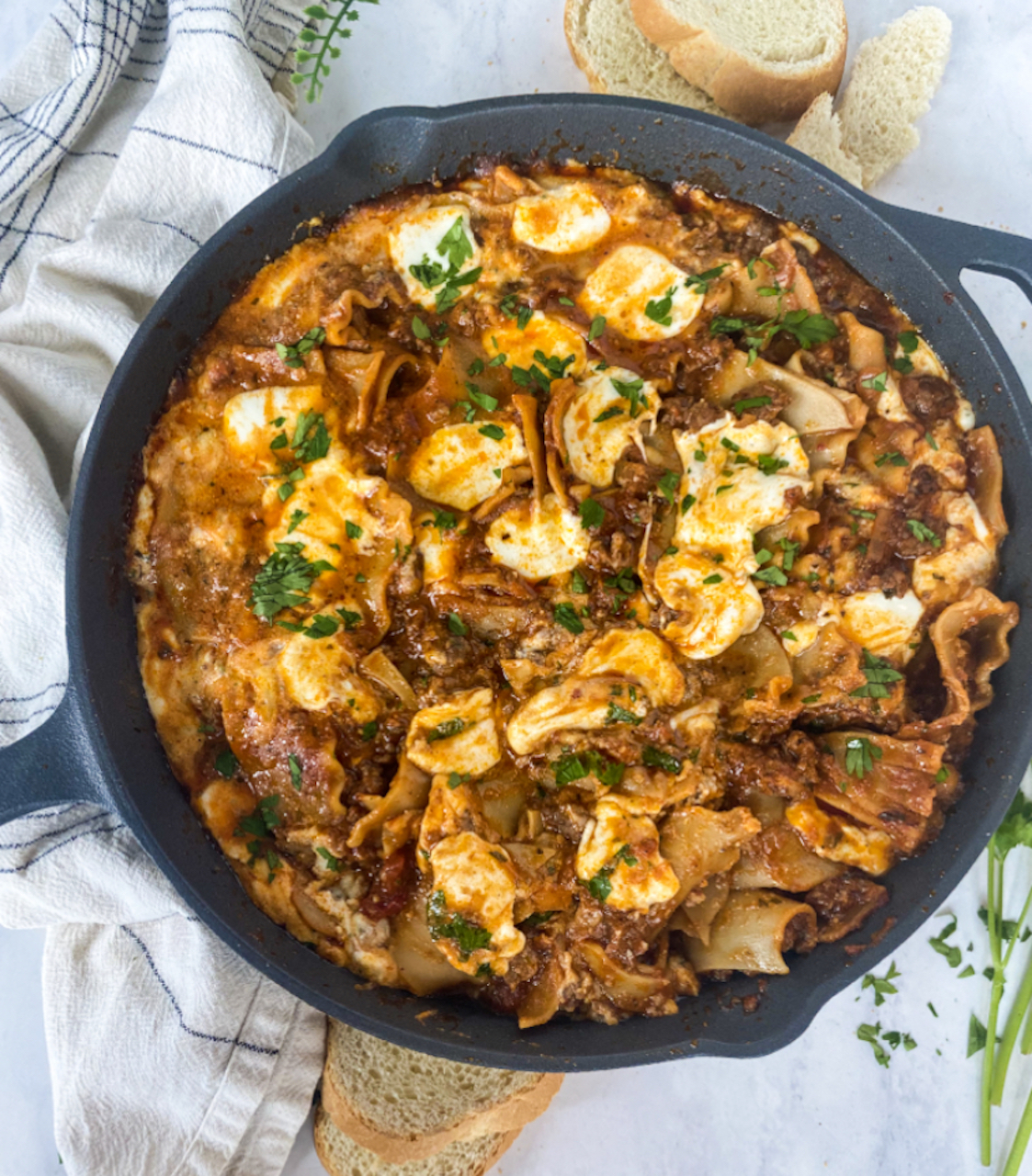 Jump to Recipe
THIS RECIPE USES JUST ONE POT!
This cast iron skillet sausage lasagna, is the perfect weeknight meal using one pot to complete the entire meal. Whereas traditional lasagna can possibly take up a half days time, minimally.
My recipes stem from leftover ingredients hanging around in the pantry and fridge and this recipe struck gold! I included every layer of ingredients used in traditional lasagna while uniquely transforming it to a one pot meal!
If you like thirty minute meals as much as I do, check out these quick but tasty meals!
Three Cheese Shrimp Mac and Cheese
WHAT INGREDIENTS ARE IN THIS ONE POT SKILLET SAUSAGE LASAGNA?
In detail, this recipe utilizes traditional lasagna ingredients such as:
Lasagna Noodles (broken into smaller pieces)
Marinara Sauce
Spicy Sausage
Shallot
Flat Leaf Parsley
Tarragon
Garlic Paste (or freshly minced garlic)
Beef Broth
Red Wine (optional)
Brown Sugar
Ricotta Cheese
Asiago Cheese
Romano Cheese
Mozzarella Cheese
Salt, Pepper, Garlic Powder, Dried Parsley and Nutmeg
The beauty of creating recipes with ingredients you have on hand is that most items are interchangeable or can substituted. If you've never made a one skillet meal like this, try this recipe. To put it another way, you'll discover a lot of traditional meals that can be converted to one skillet meals.
WHAT IF I DON'T HAVE ALL THE INGREDIENTS?
This recipe can work with many substitutions in fact, listed below are ingredients that will work perfectly for this recipe!
Don't have lasagna noodles? Any noodles should work. To clarify, the larger the noodle, the better. This dish has hearty ingredients and a small noodle will not withstand these ingredients.
Do I have to use spicy sausage? Of course not. Any ground meat of your choice will work. For example, ground beef, turkey or a pork blend probably works best!
I've never cooked with a shallot before. Can I use an onion instead? In this case, onions work just as great. But if you're adventurous, I would certainly try a shallot. The flavor profile is a bit richer than an onion and adds garlic flavored notes as well.
Do I have to use herbs? You don't and any dried herbs will work. The tarragon and flat leaf parsley coupled with a few dried herbs work great for this recipe. If herbs are not your thing, you can omit or use what you have on hand.
Is the red wine optional? I don't cook with wine a lot! By all means you don't have to use red wine but do so if you can. The "alcohol" will cook out but adds depth to the sauce that can't be duplicated. To emphasize, adding red wine to red sauces creates robust and rich flavors! Merlot, Cabernet Sauvignon and Pinot Noir works best. If you don't have red wine on hand, beef broth works!
I don't like or have ricotta cheese. Not a problem, comparatively cottage cheese works best! Sour cream, goat, mascarpone and cream cheese will work too.
Asiago and Romano are hard to find. What can I use instead? Double the mozzarella or any other white cheese. Additionally, pecorino or an italian three cheese blend works well too.
Do I have to use a cast iron skillet? No, but this cast iron that I use works so well for this recipe. A large non stick skillet or large stock pot works too.
HOW TO MAKE THE CAST IRON SKILLET LASAGNA
The most important step to achieve best best results is to prep recipe ingredients. Furthermore, utilizing a pan wide and deep enough ensures less mess.
Here's how:
In the cast iron skillet, brown and break up meat until cooked through adding chopped shallot and fresh herbs.
Stir in garlic paste stir and add marinara sauce.
Pour in red wine and beef broth stirring until well combined. Bring to a boil allowing red wine to cook down and reduce.
Add in brown sugar and stir.
Add in broken lasagna noodles and stir well until noodles are emerged and covered in sauce. Cover and simmer for 20 minutes until lasagna noodles are cooked through.
In a medium sized bowl, combine ricotta, asiago and romano cheese. Add in herbs and spices and stir until fully combined forming a paste.
After lasagna noodles are cooked through, create "craters" in pasta dish. Scoop 1-1.5 tablespoon worth of cheese mixture throughout the dish.
Top with mozzarella cheese and cover for five minutes until cheese is melted.
Allow lasagna to rest for at least ten minutes and enjoy!
To sum up, this easy one pot skillet sausage lasagna is packed with robust flavors and is complete in under thirty minutes. This dish is also great for family dinners and potlucks.
Lastly, here are a few more easy recipes that are perfect for busy weeknights!
Mexican Pizza with Shredded Chicken
Slow Cooker Beef Ragu with Pasta
Cajun Cream Shrimp Stuffed Potatoes
Easy One Pot Skillet Sausage Lasagna
In just 30 minutes, this easy cast iron skillet sausage lasagna is on the dinner table. Filled with lasagna, spicy sausage, hearty marinara and four cheeses, your family will ask for this again and again!
Ingredients
8-10

oz

Lasagna Noodles

Broken Up

24

oz

Marinara Sauce

1

lb

Spicy Sausage

1

small

Shallot

1

tablespoon

Tarragon

1-2

tablespoon

Flat Leaf Parsley

8

oz

Mozzarella Cheese

1

tablespoon

Garlic Paste

Fresh Minced Garlic

2

cups

Beef Broth

¾

cup

Red Wine

1

tablespoon

Brown Sugar
Cheese Mixture
1.5

cup

Ricotta Cheese

½

cup

Asiago Cheese

½

cup

Romano Cheese

Salt + Pepper

To Taste

1

tbsp

Garlic Powder

1

tablespoon

Dried Parsley

Pinch

Nutmeg
Instructions
In a large cast iron brown sausage breaking up into small pieces.

Add in chopped shallot, herbs, garlic paste and stir until well combined.

Pour in marinara sauce and stir.

Pour in wine and cook until reduced and alcohol cooks off (about 1-2 minutes).

Pour in 1 cup of beef broth and stir.

Add in brown sugar and stir.

Add in crumbled lasagna noodles and stir until noodles are submerged into meat sauce.

Reduce heat to a low simmer, cover and cook for 20 minutes.

With remaining 1 cup of beef broth, pour in as needed to help noodles cook in liquid. The liquid should cook down and sauce should remain thick.

While noodles cook, prepare cheese mixture by stirring cheese, herbs and seasonings in a medium sized bowl. Set aside until further use.

Once noodles are cooked through, create craters into the pasta dish and add about one tablespoon of cheese mixture into the dish.

Top with mozzarella, cover for 5-10 minutes until cheese is melted.

Let casserole sit for 10-15 minutes for best results and enjoy!