Post update: March 1, 2022.
Crab Sushi Bake is packed with traditional sushi- sticky rice, fresh cucumber, crab and avocado garnished with your favorite sushi toppings. This easy and fun meal is the perfect weeknight or weekend interactive meal!
If you like this recipe, you will love Dragon Roll Sushi Bowls, Philly Roll Sushi Bowl or Garlic Noodle Soup with Spicy Pork.
Jump to Recipe
WHAT IS CRAB SUSHI BAKE?
To explain, sushi bake is a deconstructed version of traditional sushi. The recipe is prepared in a baking dish and most times baked like a casserole. For this reason, sushi bake can consist of all your favorite sushi additions like fresh crab, salmon, shrimp, spicy mayo, avocado, crunchy onion and more. To emphasize, the additions and toppings are endless!
While sushi bake is fairly new, it has become extremely popular and has become a business venture for entrepreneurs all around. There are several variations of this recipe, but today this recipe is centered around fresh crab.
THE BEST RICE FOR THIS RECIPE
This dish works perfectly fine with regular rice so by all means, use what you have on hand. If you have the time, certainly make the sushi rice. It really enhances the flavor and gives the dish the true sushi flavor and texture.
Short grain rice works best when preparing sushi rice. To explain, sushi rice is prepared with additional ingredients to give it the sticky and flavorful texture that it holds. Medium to long grain rice is not able to withstand the added ingredients as good as short grain rice.
Here's an image of the sushi rice I cook with and with all of my Asian inspired meals. I absolutely love Calrose Rice and you can find my favorite brand by clicking here. This rice requires only to be soaked once and not rinsed several times before cooking.
TIPS FOR MAKING GOOD SUSHI RICE
Use short grain rice. You can find sushi grade rice at your local grocery store in the international/Asian aisle.
Depending on package instructions you'll need to rinse or soak the rice for best results.
The vinegar, sugar and additional ingredients really give great- authentic flavor, don't omit!
When adding additional ingredients to make sushi rice, do so after rice is immediately cooked. (My first attempt didn't go as well for not following this trick)
Use an appropriate pot to cook your rice if you don't own a rice cooker.
The rice will need time to cool before assembling the casserole. (I was too anxious the first attempt and burned my fingers, ouch!)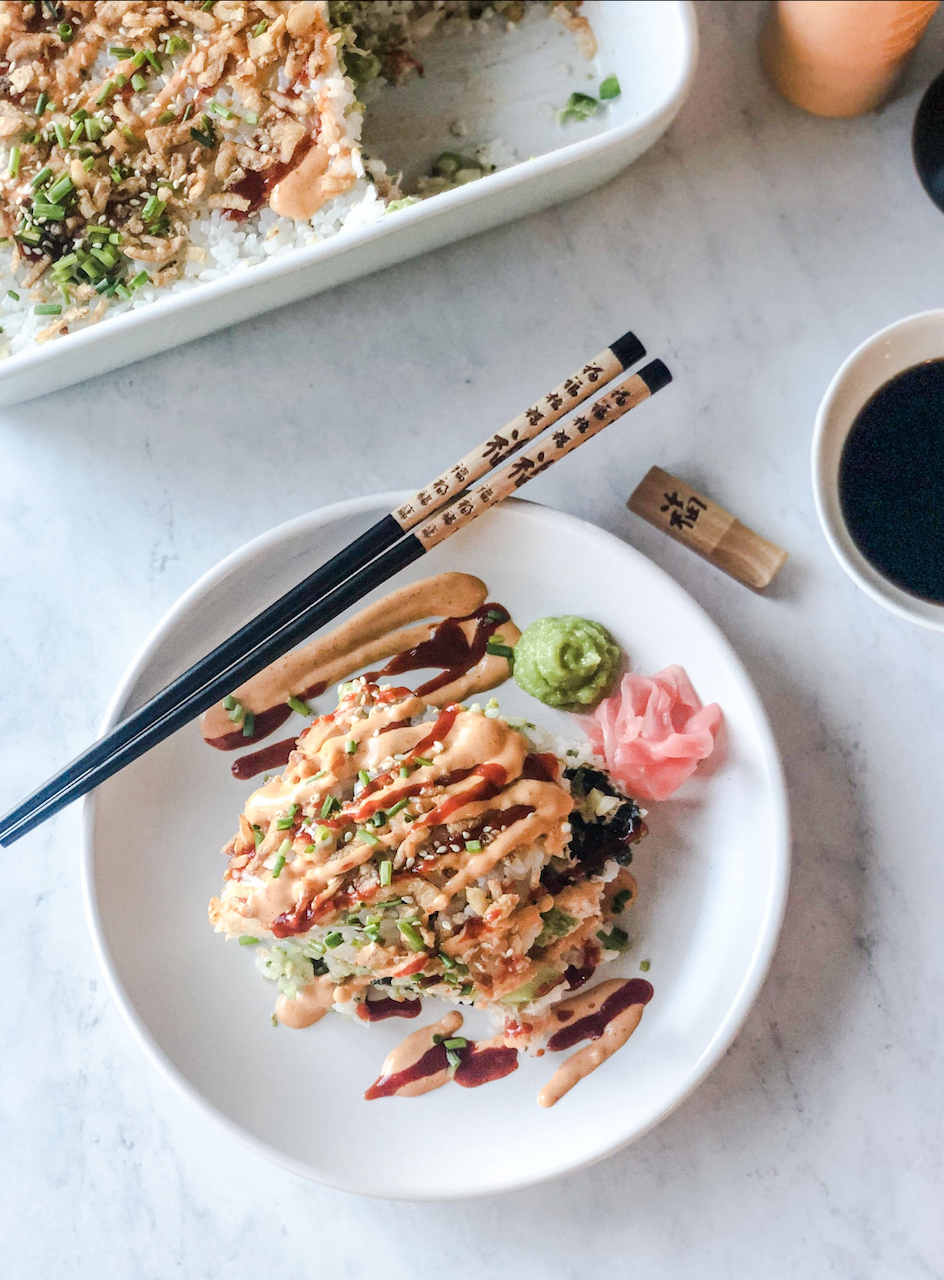 INGREDIENTS NEEDED
Keep in mind this is just a blueprint, that is to say use ingredients that you have access to. Add in what you normally prefer in your sushi, certainly that's the best way to go! Here's what you'll need to make the best crab sushi bake.
SUSHI RICE
Sushi Rice
Water
Rice Wine Vinegar
Sugar
Salt
Oil (grapeseed)
CRAB MIXTURE
Dungeness Crab optional (protein of choice)
Mayo
Lemon Juice
Old Bay
AVOCADO MIXTURE
Avocado
Season All (or salt and pepper)
Lemon or Lime Juice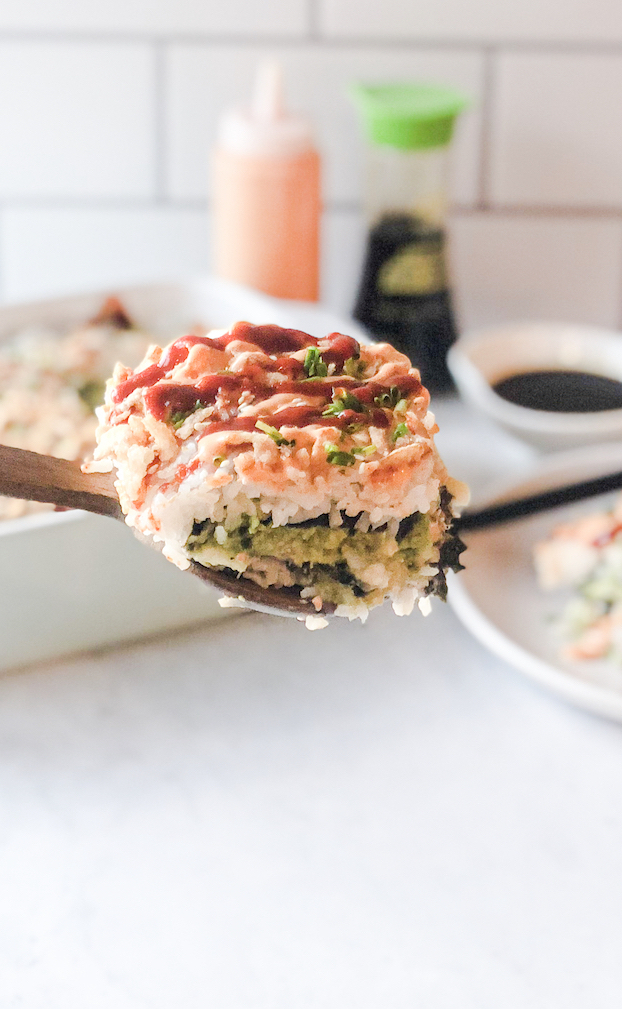 ADDITIONAL FILLINGS
Cucumber
Jalapeno optional
Nori Sheets or Seaweed Papers
SPICY MAYO
Mayo
Sriracha
Sesame Oil
Garlic Paste (or fresh minced garlic)
TOPPINGS
Sriracha optional
Spicy Mayo
Toasted Sesame Seeds
Fried Onions (optional)
Green Onion
Wasabi
Pickled Ginger
HOW TO MAKE CRAB SUSHI BAKE
First, begin by preparing the sushi rice. Follow the package instructions on your bag of rice. While the rice is cooking, let's complete a few more steps.
After rice has cooked. In a small bowl, combine vinegar, sugar, salt and oil and stir until combined. Add liquid mixture to rice and stir until thoroughly combined. Allow rice to cool before assembly.
HOW TO PREPARE SPICY MAYO
If you are preparing the spicy mayo homemade, now is a good time to prepare it. Allowing the sauce to marinate makes for great flavor. You can certainly purchase store bought too.
Start by adding mayo, sriracha, sesame oil and garlic to a bowl and whisk until thoroughly combined. Adjust spiciness and flavor to your liking and refrigerate until ready for use.
ADDITIONAL CRAB SUSHI BAKE INSTRUCTIONS
Next, in a medium sized bowl, add crab, mayo, Cajun seasoning and lemon juice. Stir gently until combined and set aside until assembly.
Next, peel the cucumber and small dice. Small dice jalapeno and deseed to decrease spice level (optional). Roughly chop green onion and set all prepped ingredients aside.
Now, peel and deseed the avocado and add lemon juice and season all. Smash avocado until smooth and set this aside too. Tip! Add the seed of the avocado to prepared avocado smash mixture, this will help with the mixture not browning as fast!
CRAB SUSHI BAKE ASSEMBLY
With your pre-greased baking dish, add half of the cooked sushi rice to the bottom of the baking dish and press rice firmly until smooth and even. By using a flat utensil such as a spatula, you'll get the best results ensuring the rice is evenly flat.
Next, add one sheet of nori and add crab mixture on top of nori spreading evenly throughout dish. Then, add diced cucumber and jalapeno and spread evenly over dish.
Add avocado mixture and spread evenly over cucumber and jalapeno mixture. Lastly, top with second piece of nori and add remaining sushi rice on top of nori.
HOW TO GARNISH THE BEST CRAB SUSHI BAKE
Lastly, place clear wrap on top of finished casserole and press down firmly to compress casseroles ingredients.
TIPS FOR MAKING THE BEST CRAB SUSHI BAKE
Place in the refrigerator for at least fifteen minutes to let ingredients and flavors mesh.
Remove from refrigerator after fifteen minutes and top with favorite toppings such as sriracha, spicy mayo, green onion, fried onions, toasted sesame seeds and enjoy!
This particular recipe is not baked but prepared like a dish and served casserole style. You can certainly bake it but I didn't want to disturb the integrity of the crab.
WHAT TO SERVE WITH CRAB SUSHI BAKE?
Flavored seaweed sheets
Seaweed Salad
Asian style salad with ginger dressing
SUBSTITUTIONS FOR THIS RECIPE
Protein-Substitute crab for shrimp, scallops, imitation crab or go meatless!
Nori- Can't find nori sheets? Simply omit the layering of nori sheets and use flavored seaweed sheets to place the completed casserole on top of.
Additions- Add fresh fruit like mango. Or double up on protein and add crab and shrimp. Fun toppings like fried onions and fun sauces like unagi sauce would be delicious!
HOW TO STORE CRAB SUSHI BAKE
While I'm certain you will have minimal leftovers because this dish is absolutely delicious, you can store crab sushi bake. Simply transfer the leftover casserole into an airtight container and store in the fridge.
This step will work best using a spatula while transferring the recipe into the storage dish. Be careful with keeping the integrity of the casserole intact by using the spatula for best assistance.
HOW LONG DOES CRAB SUSHI BAKE LAST?
Again, this recipe will not last long and I'm certain your loved ones or guests will absolutely devour this recipe. But, once stored this dish can last in the refrigerator for up to about three days.
I always use my old school rule of thumb that if it smells funny. It's probably not the safest to consume!
Be sure to follow me on Instagram , Facebook, Pinterest and Tik Tok!
Crab Sushi Bake
Ingredients
Sushi Rice
2

cups

Sushi Rice

2.5

cups

Water

¼

cup

Rice Wine Vinegar

2

tablespoon

Sugar

2

teaspoon

Salt

1

teaspoon

Oil
Crab Mixture
1.5-2

cups

Dungeness Crab

optional (protein of choice)

2

tablespoon

Mayo

1

tablespoon

Lemon Juice

1-1.5

teaspoon

Old Bay
Avocado Mixture
1

Avocado

1.5

teaspoon

Season All

1

teaspoon

Lemon Juice
Additional Fillings
1

Cucumber

1

Jalapeno

optional

2

sheets

Nori
Spicy Mayo
3

tablespoon

Mayo

1.5

tablespoon

Sriracha

1.5

teaspoon

Sesame Oil

1

tsp

Garlic Paste

fresh minced garlic
Toppings
1

tablespoon

Sriracha

optional

1

tablespoon

Spicy Mayo

1

tablespoon

Toasted Sesame Seeds

optional

¼

cup

Fried Onions

optional

1

tablespoon

Green Onion

optional

1

teaspoon

Wasabi

1

tsp

Pickled Onion
Instructions
Sushi Rice
Depending on the type of rice you use. Cook according to package instructions. Here's how I prepared my short grain sushi rice.

In a large pot, add sushi and water and stir. Let sit for 15 minutes, do not rinse and turn to medium/high heat bringing to a slow boil.

Once rice begins to boil, turn heat to low and simmer for 20-25 minutes until rice is thoroughly cooked through and water has evaporated.

Immediately after rice is cooked. In a small bowl, combine, rice vinegar, oil, sugar and salt and stir until combined.

Add vinegar mixture to warm, cooked rice and still until sauce is well distributed.

Set aside (or even refrigerate) to let rice cool.
Crab Mixture
In a bowl, place crab, mayo, lemon juice, cajun seasoning and stir until well combined.

Set aside until assembly.
Spicy Mayo
In a small bowl, combine mayo, sriracha, sesame oil, garlic and stir until smooth and well combined.
Avocado Mixture
In a bowl, place avocado, season all and lemon juice in a bowl.

Mash avocado and combine additional ingredients until smooth.
Additional Ingredients
Peel and small dice cucumber.

Small dice jalapeno and de-seed (leave seeds if spice is preferred).

Depending on casserole dish size, cut nori to fit width of dish and set aside until assembly.
Sushi Bake Assembly
In a casserole dish, take one teaspoon of oil and grease the lining on the baking dish.

Add in half of the cooked rice and press rice around the perimeter of the dish until filled and even in layer.

Add one sheet of nori to cover the entire layer of rice.

Add crab mixture and evenly distribute on top of nori.

Top crab mixture with diced cucumber and jalapeno.

Add avocado mixture and spread evenly over cucumber and jalapeno mixture.

Add final sheet of nori over avocado mixture.

Top with remaining cooked sushi rice, spreading evenly over nori until entire casserole is covered with rice.

With a sheet of clear wrap, place over finished casserole and press down firmly to set the sushi bake into a tight mold.

Refrigerate for at least 15 minutes before serving.

Top with favorite sushi toppings. I used; sriracha, spicy mayo, green onion, fried onions and toasted sesame seeds.
If you like this recipe, you will love: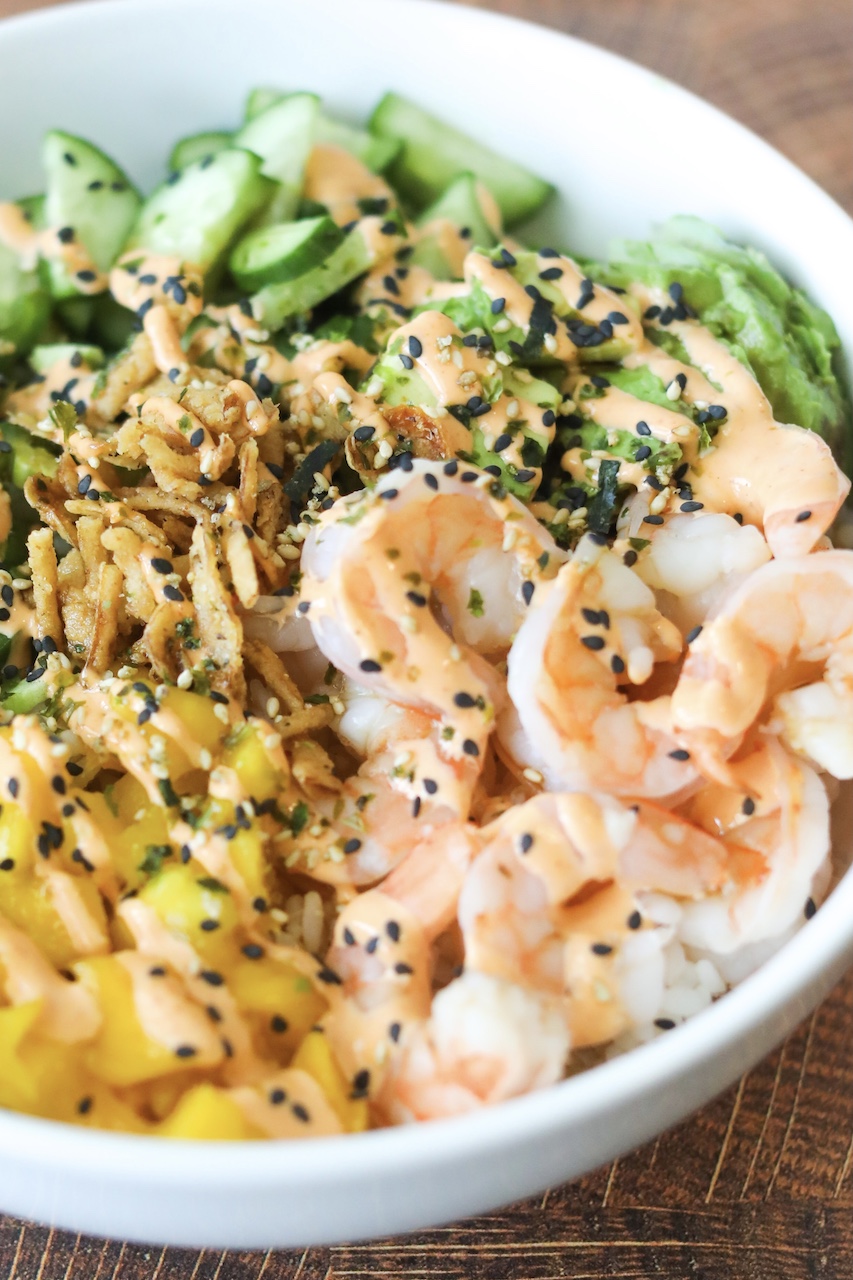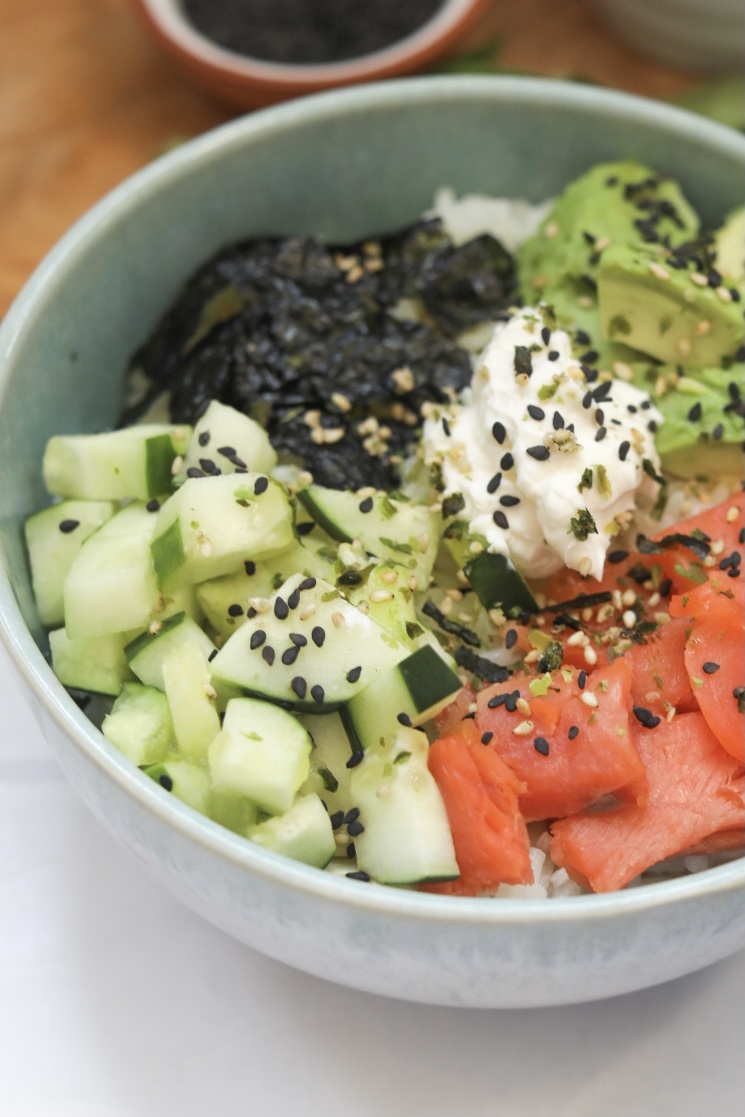 Garlic Noodle Soup with Spicy Pork