Warm up with this zesty and flavorful Easy Creamy Chicken Tortilla Soup. Filled with staple pantry items, this hearty recipe is perfect for a quick weeknight meal for a hungry family. Seasoned chicken breasts, hearty beans, soft veggies with cream, chili and herbs, you'll add this one pot recipe to your collection for years to come!
Jump to Recipe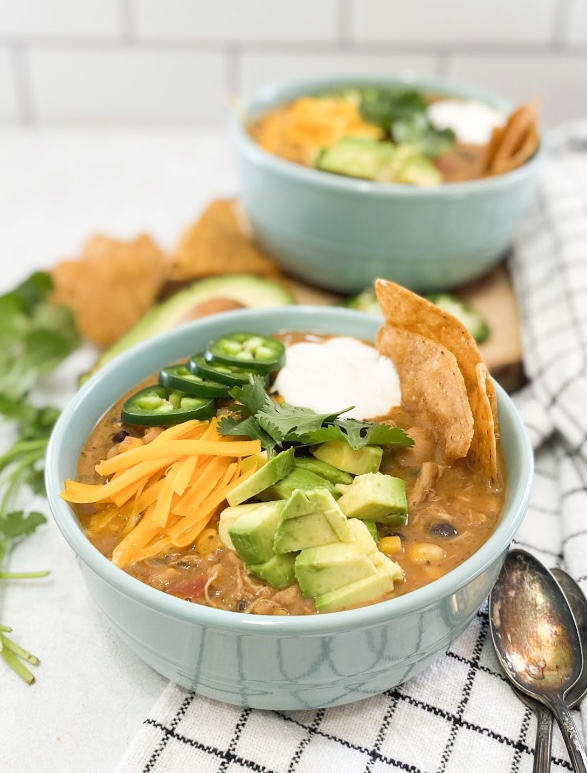 If you're like me and love warm, hearty and tasty soups, try this sausage, kale and potato soup or slow cooker beef ragu with reginelle pasta.
One pot dishes are must these days and you can never have too many recipes in your stash. This easy creamy chicken tortilla soup is the perfect meal to make during the week if you're pressed for time but not wanting to skip out on flavor.
WHAT IS CHICKEN TORTILLA SOUP?
Chicken tortilla soup is a mexican inspired dish traditionally made with a tomato and chicken base that's built into a hearty and flavorful broth. In addition to the broth, festive ingredients such as corn, a variety of beans, onion, garlic and herbs allows this soup to have the perfect amount of texture and chew.
The fun doesn't stop there. In fact, after the soup simmers you then add toppings such as cheese, tortilla strips or chips, jalapeno, sour cream and lime! To sum up, this soup will truly be enjoyed by all. Add a grilled cheese on the side and you're certainly in foodie heaven.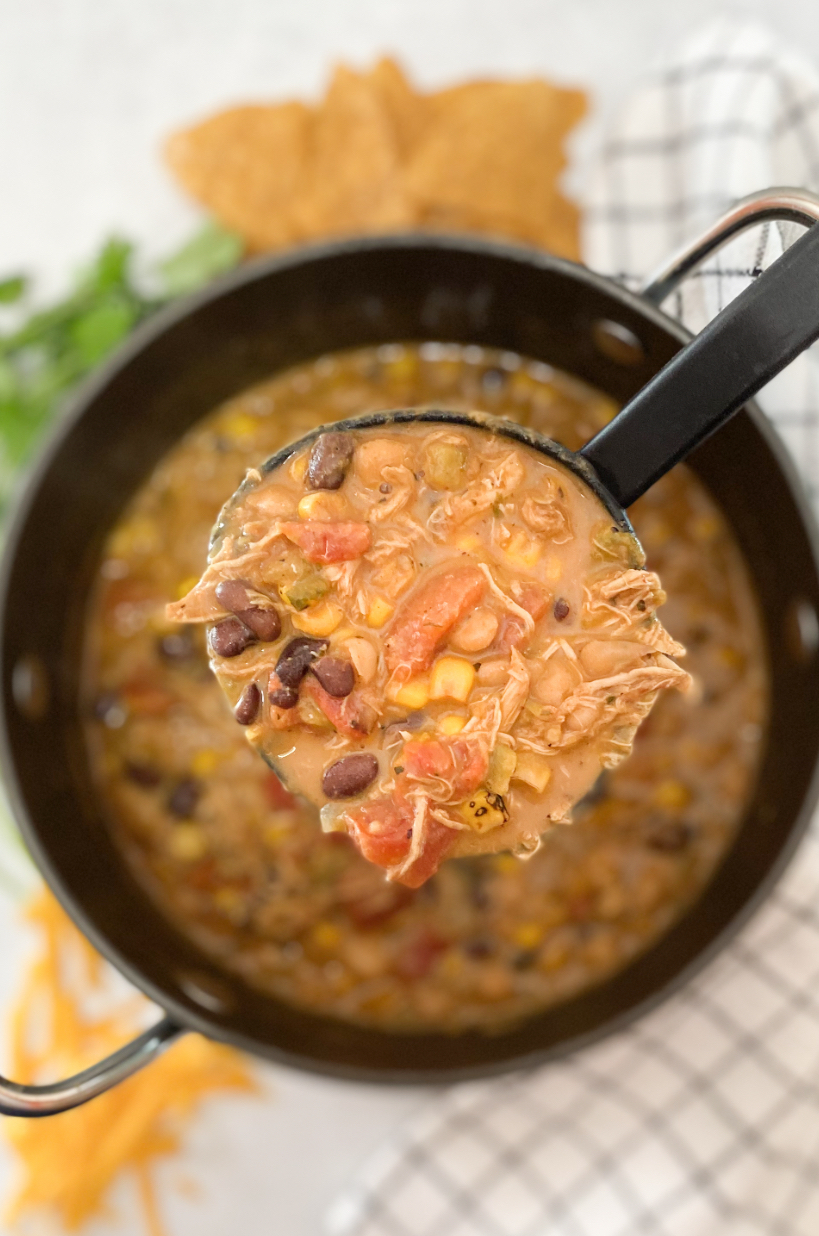 WHY MAKE THE SOUP CREAMY?
I decided to make this traditional soup creamy. I love creamy soups and sauces hence the heavy whipping cream and cream cheese you'll note in the recipe. Adding cream allowed the soup to become rich in texture and as a result, rich in flavor. It also cut down on some of the spice and surely did not disappoint.
It's important to realize you can certainly omit the cream and the soup is just as good but by all means, add the cream. 🙂
WHAT INGREDIENTS ARE IN THIS EASY CREAMY CHICKEN TORTILLA SOUP?
With just a handful of staple pantry items, this soup consists of household items found in your pantry and refrigerator. To sum up, most of these ingredients are easily accessible making this recipe easy and beginner friendly.
Boneless Skinless Chicken Breast
Garlic
Onion
Yellow Bell Pepper
Chili Powder
Cumin
Oregano
1 tsp Paprika
Chicken Stock
White Kidney Beans
Black Beans
Can Diced Roasted Tomatoes
Can Diced Green Chilies
Cream Cheese
Heavy Cream
Fire Roasted Corn frozen
Cilantro
WHAT ARE GOOD TOPPINGS TO ADD TO THIS SOUP?
In short, this soup is popular for its many toppings. Get festive thus adding your favorite mexican inspired toppings to this soup. Another key point, this tasty soup is like your favorite burrito in a bowl!
Cheddar Cheese
Sour Cream (Greek Yogurt)
Jalapeno
Cilantro
Avocado
Tortilla Strips
WHAT MAKES THIS RECIPE "EASY"?
This soup is considered a one pot meal as the recipe requires you to cook the entire meal in one pot. With this in mind, you'll only need to grab one large stock/soup pot and all the magic happens inside.
There's little prep too as most of these ingredients can be purchased prepped and ready to go. As a result, if you're in a rush by all means purchase your ingredients prepped and save yourself the time. Regardless do what makes the most senses for you!
For this recipe, I prepped the onion, garlic, yellow bell pepper, herbs and drained the beans. This process took a mere 15 minutes and was completed while the chicken browned on both sides in the stock pot.
HELPFUL SUBSTITUTIONS FOR MAKING THE SOUP HEALTHIER?
It's no secret this soup is on the richer side and if you're wanting to cut a few calories. By all means, make the suggested tips below.
Omit the cream and whipping cream.
Do not add the cheddar cheese.
Omit the tortilla chips and add fresh veggies for additional crunch.
Instead of sour cream, use plain greek yogurt.
Double or even triple up on the beans for more protein.
If you're vegan, omit the chicken and amp on seasonings when you're building the flavor for the broth.
HOW TO MAKE THIS SOUP?
To begin with this recipe, let's start with seasoning the chicken. It's important to note, you must season each layer of the recipe! Use your favorite salt-free seasoning and sprinkle both sides of the chicken generously.
BROWN THE CHICKEN BREASTS ON BOTH SIDES
Next, heat your pot to medium heat, cover with oil and sauté the chicken breasts to brown both sides. It's important to know the chicken will continue cooking once the soup simmers so set aside and reserve the juices.
SAUTE VEGGIES IN SAME POT
To the same pot, add onion, bell pepper, chili powder, cumin, garlic, oregano, paprika, salt and pepper to taste and stir. To clarify, saute the veggies and seasonings until the vegetables become soft and dark from the seasonings beginning to cook.
Then, add chicken stock and bring to a boil. Add white and black beans, canned diced tomatoes, diced green chilies, browned chicken back to the pot, stir and simmer for 30-45 minutes.
THE FINAL STEP IN THE RECIPE!
Lastly, remove the cooked chicken from the pot and place on a cutting board and shred with two forks. Return the shredded chicken to the pot and stir in cream cheese, heavy cream, roasted corn, cilantro and stir. Let the soup simmer for an additional 15 minutes-just to ensure everything is warm and gooey.
Top with your favorite toppings, serve and enjoy!
THE BEST WAY TO STORE THIS SOUP
This recipe makes a hefty amount of soup and can easily feed a family of four, certainly if they are hungry! However, if there are leftovers, do not fret. The Easy Creamy Chicken Tortilla Soup stores perfectly in an airtight container for 4-5 days.
If you like freezing soups, this soup also freezes perfectly. In fact, use a freezer safe ziploc bag and the soup will last up to six months!
In detail, when you're ready to reheat the soup. Allow the the soup to thaw for 2-3 hours. In a large stock pot on low to medium heat, place the semi-frozen contents in the pot and allow the soup to melt and cook for at least thirty minutes.
To explain further, if the soup has lost some of it's liquid, simply add more chicken (starting with ½-1 cup) until desired consistency is reached.
Creamy Chicken Tortilla Soup
The perfect creamy and comforting soup that'll satisfy your favorite burrito cravings deconstructed into a hearty soup with all your favorite toppings!
Ingredients
1

teaspoon

Olive Oil

1

lb

Boneless Skinless Chicken Breast

2

teaspoon

Favorite Seasoning Blend

Morton's Nature Seasoning Blend

4

cloves

Garlic

small diced

½

cup

Onion

diced

1

medium sized

Yellow Bell Pepper

diced

1

tablespoon

Chili Powder

1

tablespoon

Cumin

1

tablespoon

Oregano

Salt and Pepper

To taste

1

teaspoon

Paprika

32

oz

Chicken Stock

2

14 oz

Can White Kidney Beans

drained

1

14 oz

Can Black Beans

drained

2

14.5 oz

Can Diced Tomatoes

2

4 oz

Can Diced Green Chilies

4

oz

Cream Cheese

¼

cup

Heavy Cream

1

cup

Fire Roasted Corn

frozen

½

cup

Cilantro

roughly chopped
Additional Toppings: Sour Cream, Cheese, Cilantro, Jalapeno
Instructions
In a large stock pot on medium/high heat, add 1 teaspoon of olive oil.

Season chicken breasts with seasoning blend and place in pot to brown on both sides. (does not have to fully cook through)

Once chicken has been browned, remove from pan and set aside.

To the same pot (do not clean), add garlic, onion, bell pepper, remaining seasonings, salt and pepper to taste and stir until vegetables are translucent and combined.

Add chicken stock and bring to a boil.

Add in white kidney beans, black beans, diced tomatoes, green chilies, and browned chicken, stir and simmer for 30-45 minutes.

After 30-45 minutes, remove chicken and shred.

Add shredded chicken, cream cheese, heavy cream, corn and cilantro, stir and simmer an additional 15 minutes until remaining ingredients are well combined.

Serve soup in a bowl and garnish with favorite toppings!