Looking for the ultimate appetizer to wow your guests and their taste buds? Prosciutto Crostini with Balsamic Glaze is a fancy appetizer that bursts with sweet and salty flavors. This easy appetizer is a sure way to dazzle your guests at your next event!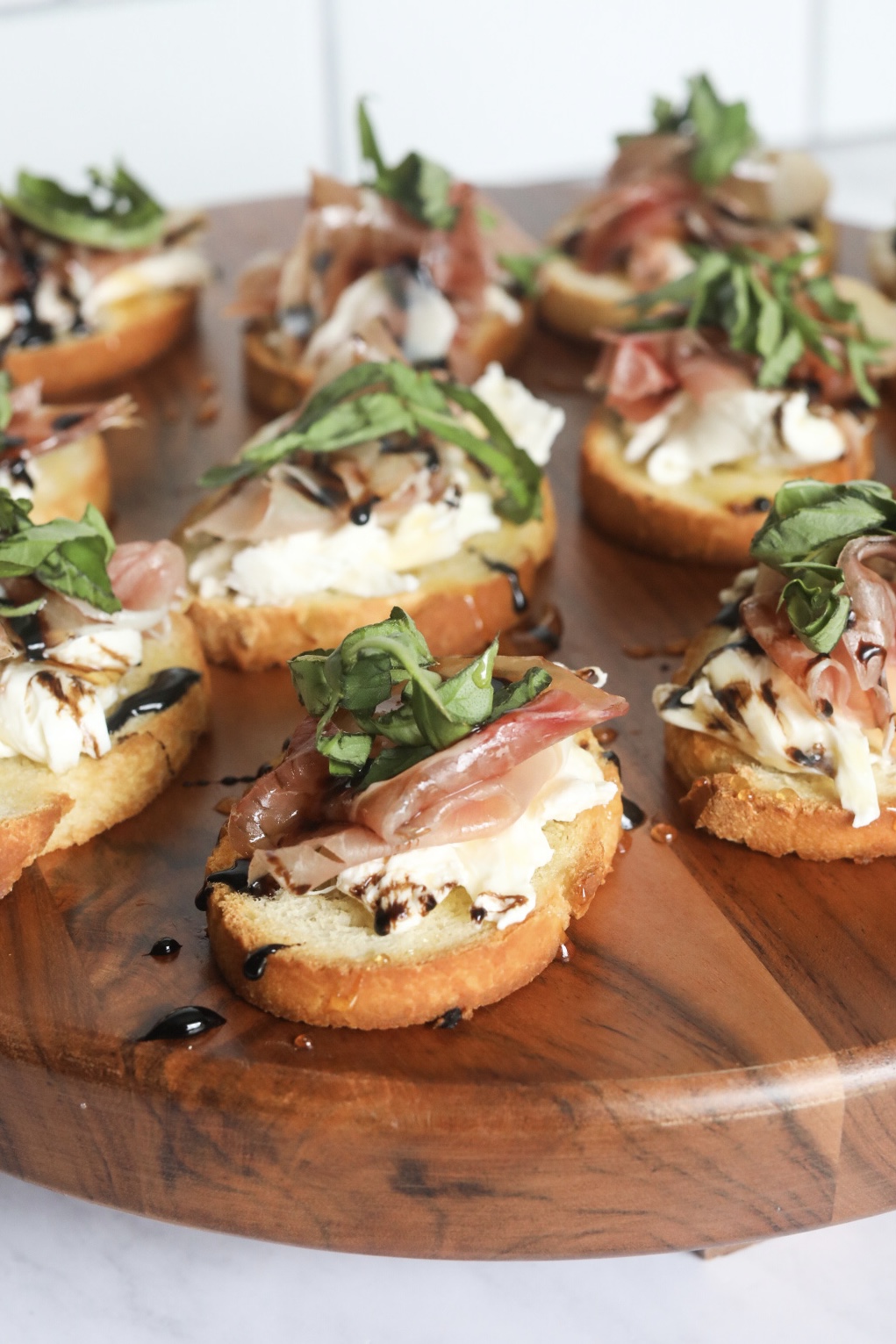 Sweet and salty flavors has to be my favorite ingredient combo. In detail, it's something about the hint of a salty ingredient being cut by a sweet and smooth element that just sends my taste buds into overdrive! To emphasize, this prosciutto, burrata crostini will wow your guests, give them a flavor burst they didn't know they needed and is easy to make.
Jump to Recipe
Like this recipe? I'm a huge appetizer lover. Add these tasty apps to your line up as well. Grilled Peach, Prosciutto and Burrata Crostini, Baked Spinach and Shrimp Dip, Sweet Orange Chili Wings, Mexican Nacho Board, Cajun Cold Shrimp Salad, Cajun Shrimp Deviled Eggs!
WHAT IS PROSCIUTTO?
Prosciutto is dry-cured ham traditionally served with Italian foods. To emphasize, tt is cooked by a salt and drying process that makes it safe to consume and enjoy! Its texture is chewy, slightly salty and pairs well with so many toppings.
If you've never tried prosciutto before, I urge you to try Prosciutto Crostini with Balsamic Glaze as a starting point. In detail, if you love bacon, I am certain you'll love prosciutto. It's like the rich auntie who comes only during Christmas and gives out nice, expensive gifts. It's one of my must haves on any charcuterie board or classic eggs benedict recipe.
BURRATA IS THE PERFECT CHEESE FOR THIS CROSTINI
Burrata is an Italian style cheese made from mozzarella and cream. To touch, the casing is firm and wrapped into a ball. Surprisingly, once opened, reveals a creamy and lose cheese mixture that pairs perfect with breads and pastas.
If you like mozzarella and cream, you'll love burrata cheese! It's balanced in taste and just with a hint of salt and pepper can truly be enjoyed with several hot and cold dishes. If you do not like burrata or creamy textures, keep reading as I share tasty alternatives to suit your needs.
WHAT MAKES THIS APPETIZER A CROSTINI?
For one thing, let me note that this appetizer is influenced by Italian flavors. If you're in the mood to take tasty trip to Italy, consider this appetizer your one-way ticket. To explain, crostini is also an Italian appetizer that is served using grilled or toasted bread-small slices and topped with additional ingredients.
Similar to bruschetta and other toast points, crostinis are the mini version of these tasty apps we so love and enjoy. Brushed with a little olive utilizing fresh Italian loaf bread, this tasty creation will leave a lasting impression.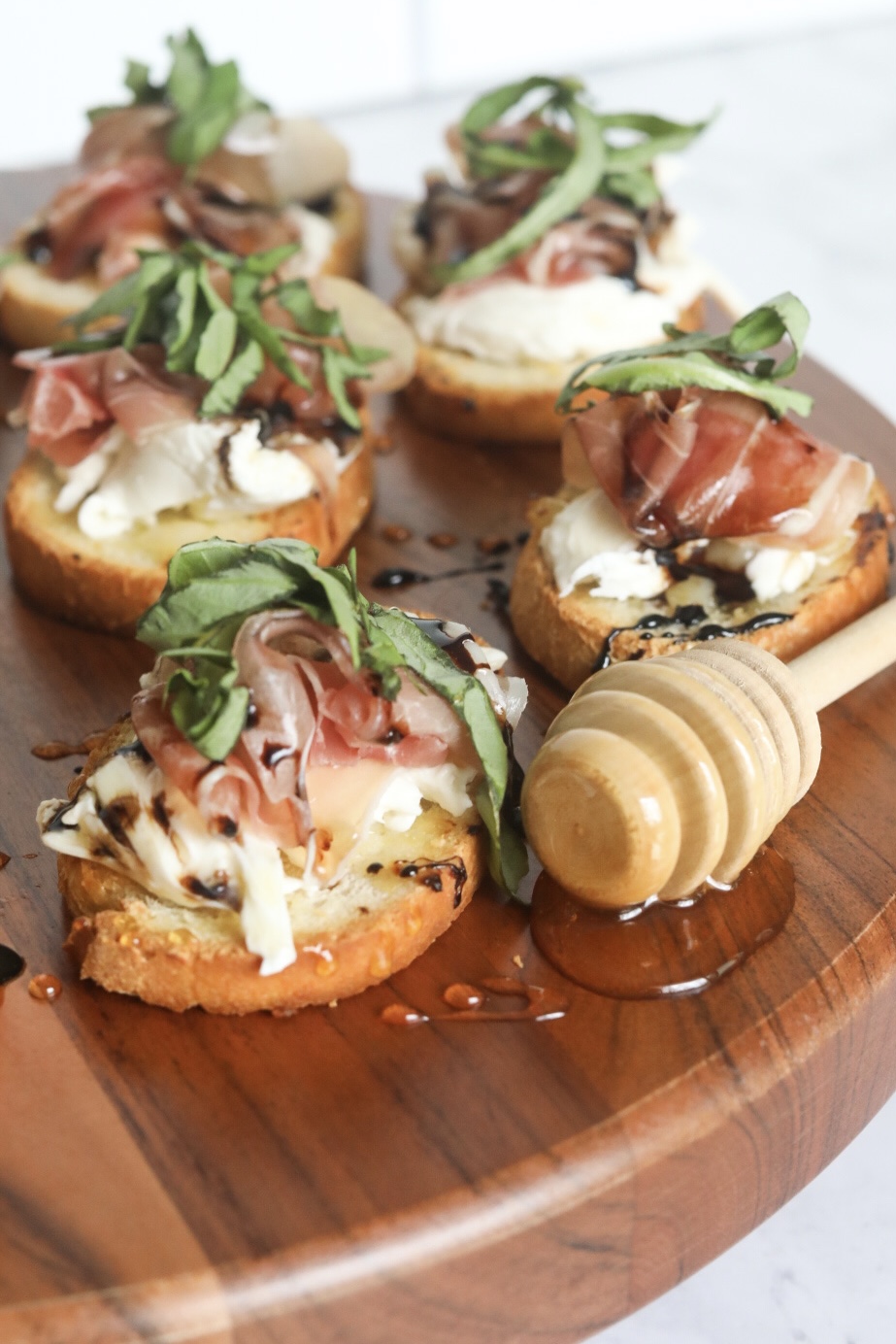 WHAT INGREDIENTS ARE IN THIS CROSTINI?
As elegant and tasty as this appetizer is, the most exciting part is that it's easy to create! Furthermore, with just a few ingredients, you are able to create an impressive appetizer that looks like it took hours to create.
Here are the ingredients you'll need:
Crusty Bread (preferably an Italian loaf)
Olive Oil (the good stuff)
Garlic
Balsamic Vinegar
Burrata Cheese
Prosciutto
Basil
Honey
Black Pepper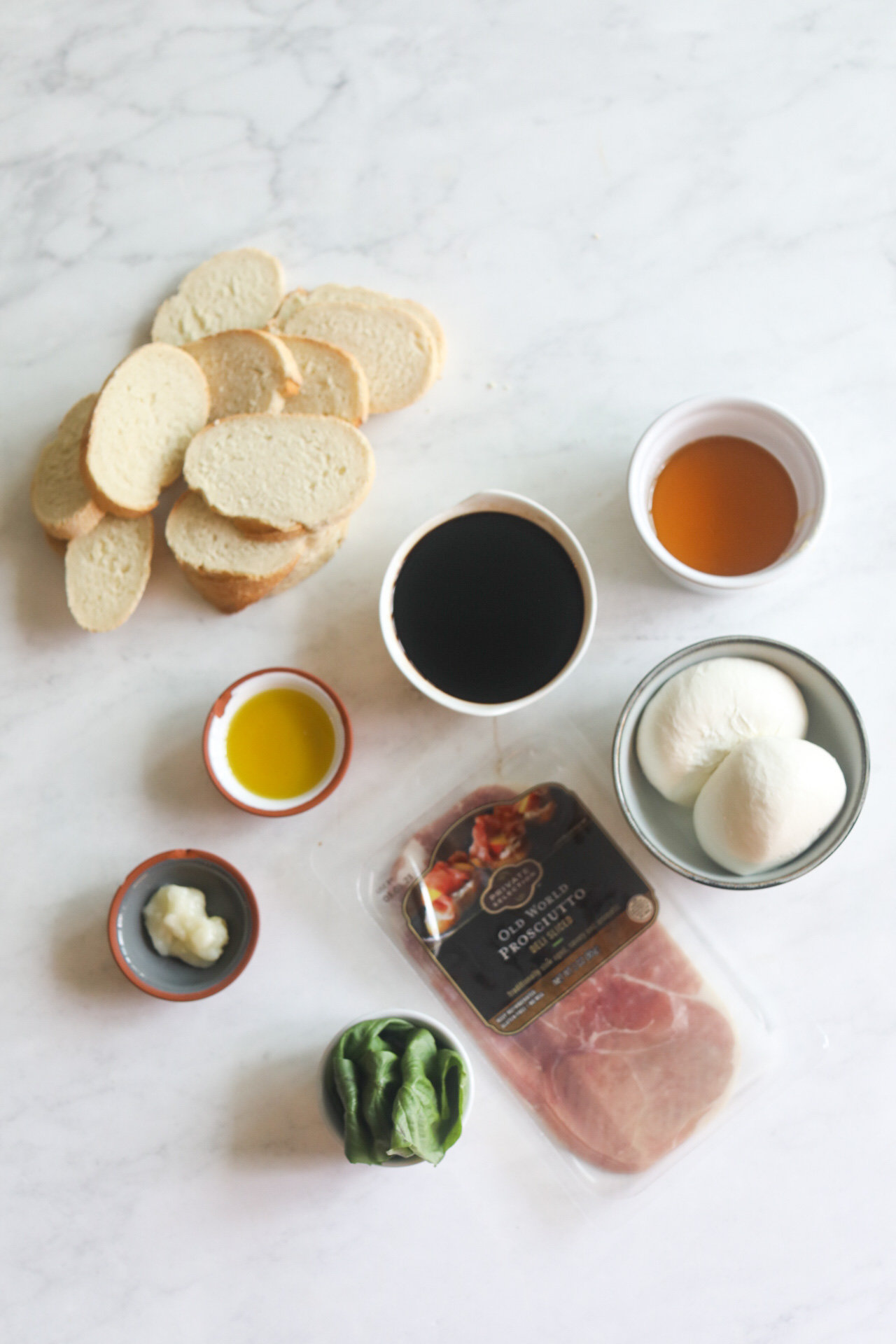 IMPORTANT SUBSTITUTIONS TO NOTE
In the event that there are items in the ingredient list that you don't consume or dislike, here are a few substitutions to make.
Substitute burrata for mozzarella cheese. Same great flavor minus the creaminess.
If omitting prosciutto, substitute with lean bacon, ham, pancetta or capicola.
The balsamic glaze is optional as it does add a tartness to the crostini that's suitable for mature palates.
Substitute basil with fresh mint or parsley for a lighter herb taste.
HOW TO MAKE PROSCIUTTO, BURRATA CROSTINI WITH BALSAMIC GLAZE + HONEY DRIZZLE
First thing to remember, this appetizer comes together in minutes. There is no prep work involved therefore this app can be prepared minutes before your guests arrive!
PREPARING THE CROSTINI
Begin by preheating your oven to 425 degrees fahrenheit. Next, slice the bread into 1-2" slices and place on a lined baking sheet. Third, in a small mixing bowl, mix freshly minced garlic or garlic paste and olive oil and stir until well combined. Last, using a pastry brush, brush each slice with the olive oil and garlic mixture.
Now that the mini toasts are ready to be baked, place in the oven and bake for 2-3 minutes being careful not to burn or over char the crostini.
BALSAMIC GLAZE
The balsamic glaze is the most detailed portion of this recipe. Don't fret, with just a few steps, you'll have a beautiful, smooth and tangy glaze that pairs perfectly with this appetizer.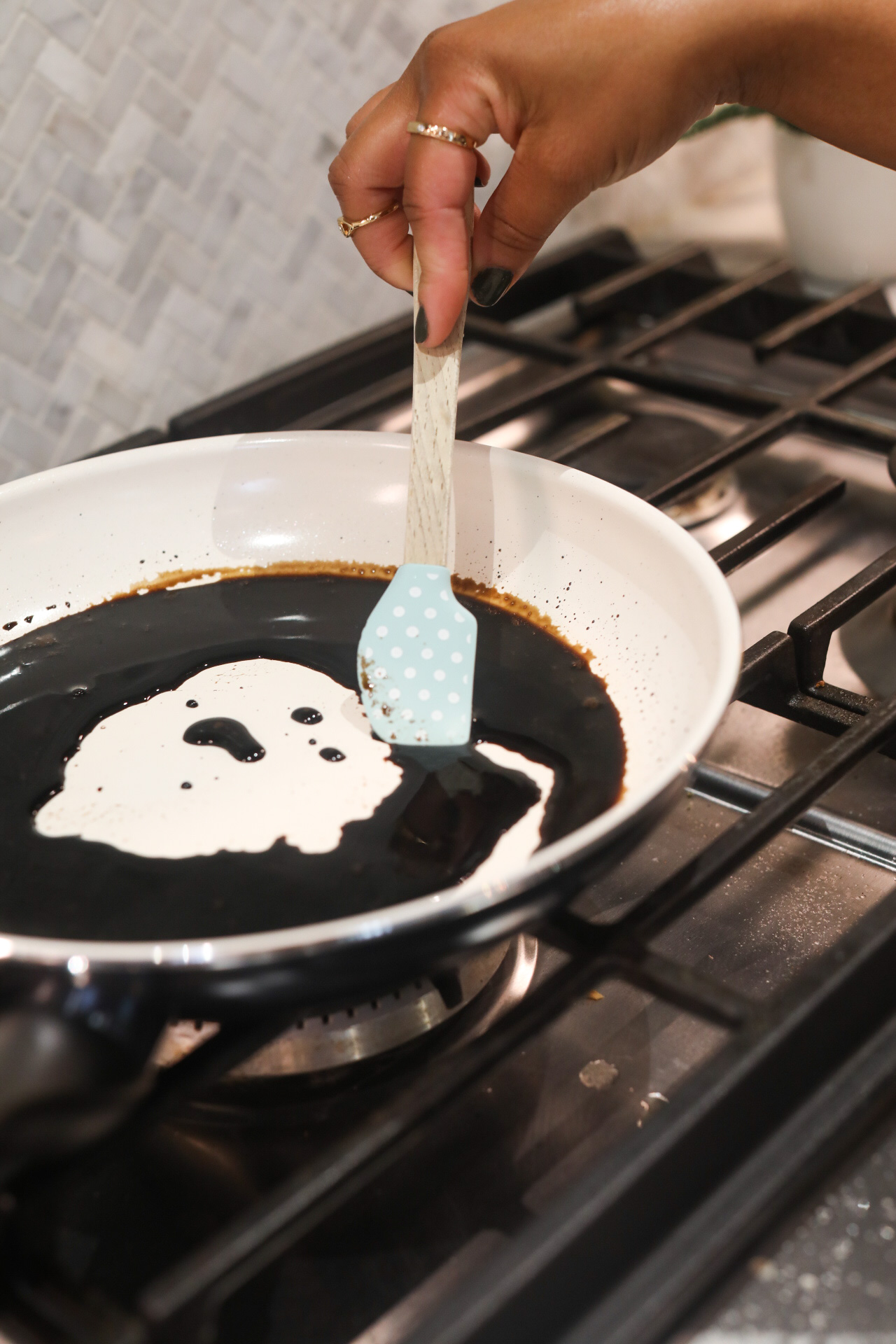 Begin by placing a small to medium saute pan on medium heat. Pour the balsamic vinegar into the pan, waiting for the vinegar to come to a slight and low boil. The, reduce heat to low until sauce thickens. It's important to note, this step takes some time so be patient and allow 10-12 minutes to occur before the sauce develops.
Last, once the sauce has thickened, place in a heat safe bowl, set aside until later use.
PREP ADDITIONAL INGREDIENTS
While the crostini bakes and the balsamic vinegar simmers and thickens, prepare the additional ingredients.
First, chiffonade fresh basil by rolling 7-8 leaves into one roll and thinly slice basil into small ribbons. Next, remove burrata from liquid and place on a paper towel or towel to release excess moisture.
Finally, remove the prosciutto from its wrapping and separate each piece from the packing paper. Slice or tear the prosciutto in half and set aside until further use.
HOW TO ASSEMBLE THE CROSTINI
At this instant, the fun begins and it's time to assemble the tasty crostini. Begin by placing the toasted crostini on your desired serving platter or tray. Next, layer fresh pieces of burrata on the bread. Third, layer one half piece and gently fold the prosciutto on top of the bread and burrata.
Now, sprinkle with freshly cracked pepper if desired. Meanwhile, gather your balsamic vinegar reduction or glaze and honey. Using a small spoon, slowly drizzle the balsamic glaze and honey over each crostini.
Finally, top with fresh basil and enjoy!
IN CONCLUSION
Now that you've created this beautiful and elegant appetizer, I am certain you'll make this for your guests for years to come. With just a handful of ingredients and a little prep time, you will have an awe-inspiring dish to connect and converse about.
If you enjoyed this recipe, I'd love for you to leave or review or connect with me further on Instagram or Facebook!
Prosciutto Crostini with Balsamic Glaze
Looking for the ultimate appetizer to wow your guests and their taste buds? Prosciutto Crostini with Balsamic Glaze is a fancy appetizer that bursts with sweet and salty flavors. This easy appetizer is a sure way to dazzle your guests at your next event!
Ingredients
1

loaf

Fresh Italian Bread

2

tablespoon

Olive Oil

1

teaspoon

Minced Garlic

Garlic Paste

½

cup

Balsamic Vinegar

8

oz

Burrata Cheese

4

oz

Prosciutto

4-5

Leaves

Fresh Basil

¼

cup

Honey

¼

teaspoon

Fresh Black Pepper

optional
Instructions
Preheat oven to 425 degrees.

Slice loaf into 1-2" slices and place on a lined baking sheet.

Mix olive oil and garlic in a small bowl and brush slices with mixture.

Bake for 2-3 minutes until bread is crusty and slightly browned.
Balsamic Glaze Reduction
Prepare balsamic glaze by pouring balsamic vinegar in a small saute pan on medium/high heat.

Bring vinegar to a boil, reduce heat to low and let simmer until sauce thickens.

This steps takes between 10-15 minutes so be patient and give it time to thicken.
Crostini Assembly
After toasted slices have cooled, break a part pieces of burrata and place on top of each slice.

Layer slices of prosciutto on top of burrata and sprinkle with black pepper.

Drizzle each crostini with balsamic glaze and honey and top with fresh basil slices.