Frozen rosé wine and fresh fruit creates this fun and trendy libation known as Frosé! Maraschino cherries, watermelon and fresh lime builds this Watermelon Cherry Frosé to be the perfect drink to celebrate summer!
Summer is ending and everyone is gearing up for fall. Fresh watermelon screams summertime, let's preserve the season with a frozen drink flavored by the best summer fruit!
Want to see how I made this drink click here!
I've joined Eat The Culture along with 30 other Black culinary creators in celebrating Juneteenth through a virtual cookout. Juneteenth marks our country's second independence day, signifying the final emancipation of those enslaved in the US announced in 1865.
This year, we are celebrating "Freedom Day" by offering a delightful selection of mains, sides, desserts, and refreshing drinks that are perfect for backyard barbecues and summer gatherings with friends and family.Join us in honoring the legacy of progress and freedom by cooking and sharing these recipes.
You can easily follow each participant by using the hashtag #JuneteenthCookout2023on Instagram. Additionally, you can find a list of all recipes from the 2023 Juneteenth Virtual Cookout on the Eat the Culture website.
WHAT IS FROSE´?
In general, Frosé is made with rosé wine and fruits such as strawberry and watermelon. Ordinarily, it's a traditional summer libation, created by a bartender in New York in 2016. Typically, the drink is sweet with hints of wine flavor throughout and is easy to recreate at home!
MY FAVORITE ROSÉ
I get to partner with amazing brands and have to share about Le Grand Courtâge owned and operated by women! With that said, their Très Chic Rosé, if by far one of my favorite rosé's to drink. Hints of rose petals, grapefruit, red berries and tropical fruit, are the tasting notes for this wine.
Le Grand Courtâge partners with several non-profits and donates 10% of their online and event sales to their NPO partners! Turning a favorite past time (indulgence) for most into a worthy cause!
WHAT PAIRS WELL WITH FROSÉ
I prefer this rosé chilled and paired with a charcuterie board, filled with salty meats, soft cheeses and fresh fruit. I enjoy this Watermelon Cherry Frosé outside during a picnic or visit to the beach, in like fashion!
HOW TO MAKE FROSE´
First, start by roughly chopping watermelon and removing the stems from the cherries. Next, place fruits into a freezer safe bag or container and freeze.
Second, pour rosé into ice cube trays and freeze at minimum for two hours.
Next, prep your additional ingredients by juicing a half of a large lime and reserving some of the cherry juice. In a blender add frozen rosé, watermelon and cherries. Add fresh lime and cherry juice and blend until smooth.
Have fun preparing this cocktail and be sure to tell me how you enjoyed it in the comments below!
Have you tried these other adult cocktails I've curated? Making fun cocktails is one my favorite things to do!
Sangria Margarita Boozy Popsicles
Strawberry & Mango Wine Slushy
MORE JUNETEENTH IDEAS FOR YOU TO TRY
You can find all the information about this Juneteenth collaboration on Eat the Culture's website, where you'll learn more about the different regions of Black cuisine we honor with our recipe contributions.
Miss Juneteenth is an annual beauty pageant held in many African American communities to commemorate the holiday. The pageant showcases African American women's beauty, intelligence, and societal contributions. Dishes such as Bourbon Glazed Candied Bacon, Strawberry Oreo Crunch Pound Cake, and Rainbow Fruit Salad with Agave-Lime Syrup lean into the sweetness of the holiday. 
Her Mise En Place - Bourbon Glazed Candied Bacon
Kenneth Temple - Hot Honey Wings
My Sweet Precision - Strawberry Oreo Crunch Pound Cake
Begin with Butter - Red Velvet Cupcakes
My Sweet Precision - Raspberry Chocolate Crumble Bars
A Classic Twist - Strawberry Basil Sparkler
Coined Cuisine - Rainbow Fruit Salad + Agave-Lime Syrup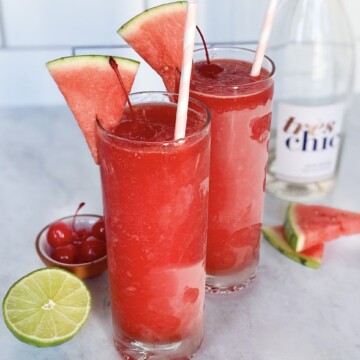 Watermelon Cherry Frosé
Ingredients
1.5

cups

Frozen Watermelon Chunks

1

cup

Frozen Cherries

2

cups

Frozen Rosé

3

cups

Rosé

not frozen

¼

cup

Lime Juice

2

tablespoon

Cherry Juice
Instructions
Roughly chop watermelon into chunks and place in a freezer safe bag or container and freeze for two or more hours.

Remove stems from cherries and place in a freezer safe bag or container and freeze for two or more hours.

In an ice cube tray, pour rosé wine into tray and freeze for two or more hours.

In a blender, add frozen watermelon, cherries and frozen rosé.

Pour in fresh lime juice and cherry juice.

Pour in rosé wine and blend until smooth.

Garnish with watermelon slices and cherries and enjoy!