In my efforts to attempt a broccoli cheese casserole recipe before Thanksgiving, I had more leftover broccoli than I knew what to do with! I hate wasting food; I thought long and hard on what I could create and I immediately channeled back to my college days. I loved cooking for my roommates and immediately remembered a cheesy, broccoli baked dish-with chicken I made, that they loved. And boom! As I've said before, there's always a sweet, nostalgic memory that comes from the simplest things, food!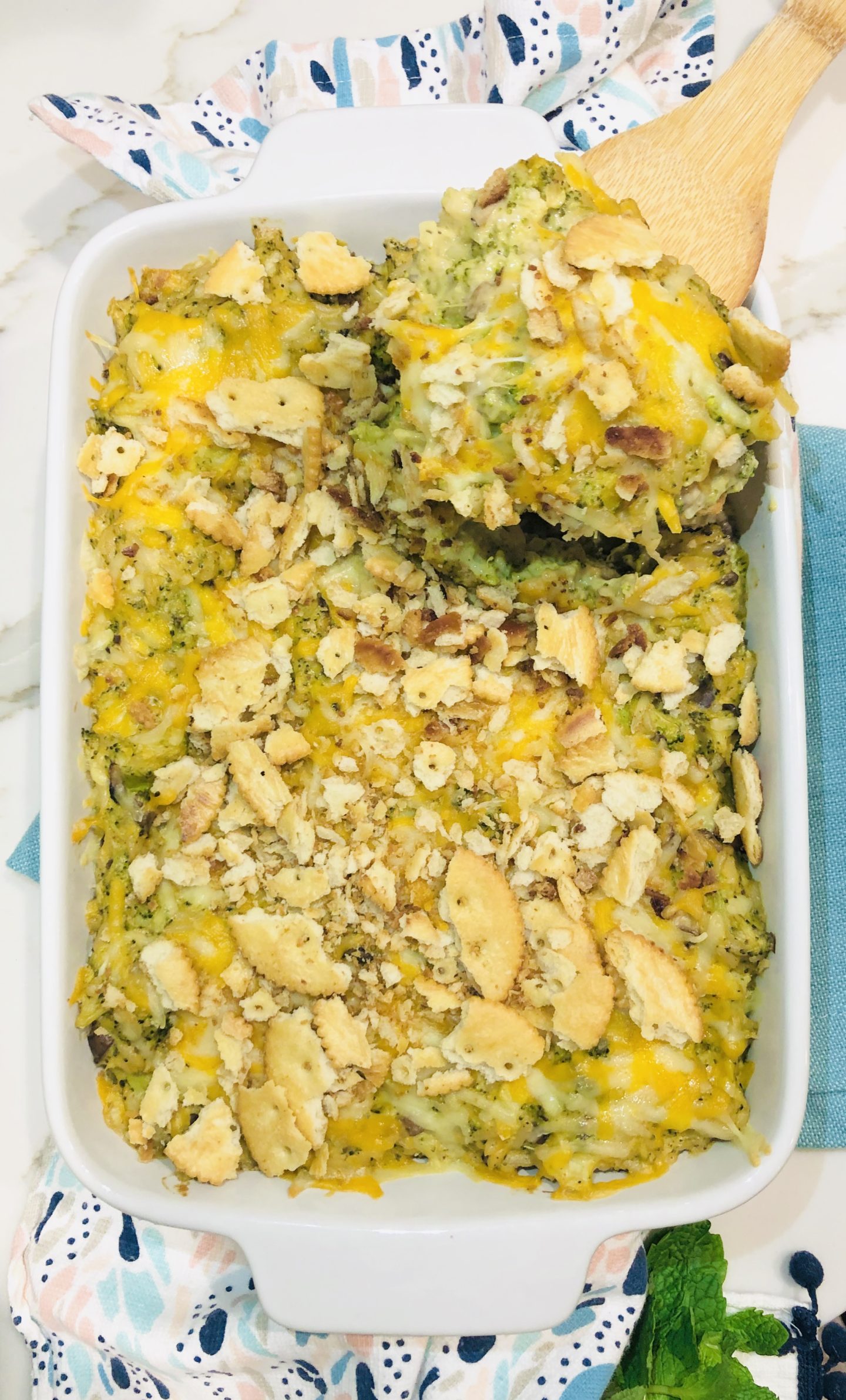 This is a quick and tasty last minute dinner idea. I'd bet you have most of these ingredients at hand. That's why this dish always went over so well with my college buddies, what college student doesn't have basic ingredients such as chicken breasts, broccoli, cheese and condensed soup? Even when I serve it now to my growing family, it goes over so well and doesn't need a side dish. We normally have enough for one night of leftovers.
Want to see how I created this video? Click the link here.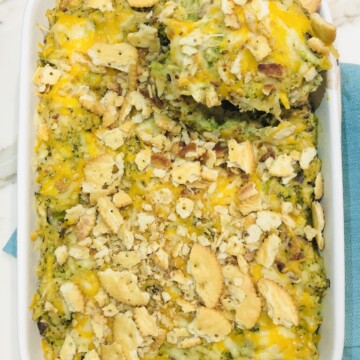 Broccoli Chicken Cheddar Bake
This classic hearty dish is the perfect last minute weeknight meal. Crowd pleaser and little clean up, your family will devour it!
Ingredients
1

teaspoon

Olive Oil

2

lbs

Broccoli

Fresh or Frozen .

1

lb

Boneless Skinless Chicken Breasts

6

oz

Baby Bella Mushrooms

small diced

½

Medium Size Onion

3

cloves

Garlic

minced

1

can

Cream of Mushroom with Roasted Garlic

1

can

Cream of Broccoli Cheese Soup

¼

cup

Sour Cream

¼

cup

Mayonnaise

2

cups

Cheddar Cheese

5

Ritz Crackers

crushed

2

tsp

Lemon + Pepper Seasoning

1

tb

Lime Juice

1

teaspoon

Garlic Powder

1

teaspoon

Onion Powder

1

teaspoon

Butter
Instructions
Preheat oven to 350 degrees.

Prep veggies: chop broccoli, onion, garlic and mushrooms.

Place broccoli in large stock pot with water and steam until cooked through. (do not overcook)

Season chicken with lemon and pepper seasoning and place in skillet on medium/high heat with minced garlic and oil. Saute' until brown and almost cooked through. (will continue to bake in oven)

In a separate bowl, combine canned soups, sour cream, mayonnaise, lemon juice, onion and garlic powder. Stir until thoroughly combined.

After chicken has browned, dice and set aside.

In a shallow baking dish, layer steamed broccoli in dish, followed by diced lemon and pepper chicken breasts, diced onion, cream mixture and stir.

Bake at 350 for 20 minutes.

While dish is baking, in a small skillet with butter, place crushed Ritz Crackers in skillet and saute' until crispy and brown.

After 20 minutes, top dish with cheddar cheese and Ritz Crackers and bake an additional 10 minutes until cheese is melted and crackers are crispy and brown.