Tuna noodle casserole is a creamy, cheesy dish with tender chunks of quality tuna, pasta, and veggies, baked to bubbly golden brown perfection. Make this meal in one skillet in just over 30 minutes for an easy weeknight dinner.
For more delicious casserole recipes try this simple Broccoli Casserole, Pizza Casserole, and Spicy Sausage and Baked Bean Casserole next.
This recipe is close to the classic tuna noodle casserole but has a few elevated ingredients such as capers, shallots, and spinach. The salty, savory flavor of tuna pairs well with the sautéed veggies and cheese. The breadcrumb and parmesan cheese topping gives this comfort food a cheesy, crunchy twist!
Jump to:
Why This is the Best Tuna Noodle Casserole
A Healthier Twist. Unlike traditional tuna casserole, this recipe calls for a homemade sauce versus using canned soups (which means less processed ingredients and sodium).
Great for Meal Prep. Don't have a large family to feed? Casserole stores and reheats well so you can enjoy individual servings throughout the week.
Totally Customizable. You can switch up the cheese, the pasta, and the toppings. You can also make some tasty additions to the ingredients list. It's up to you!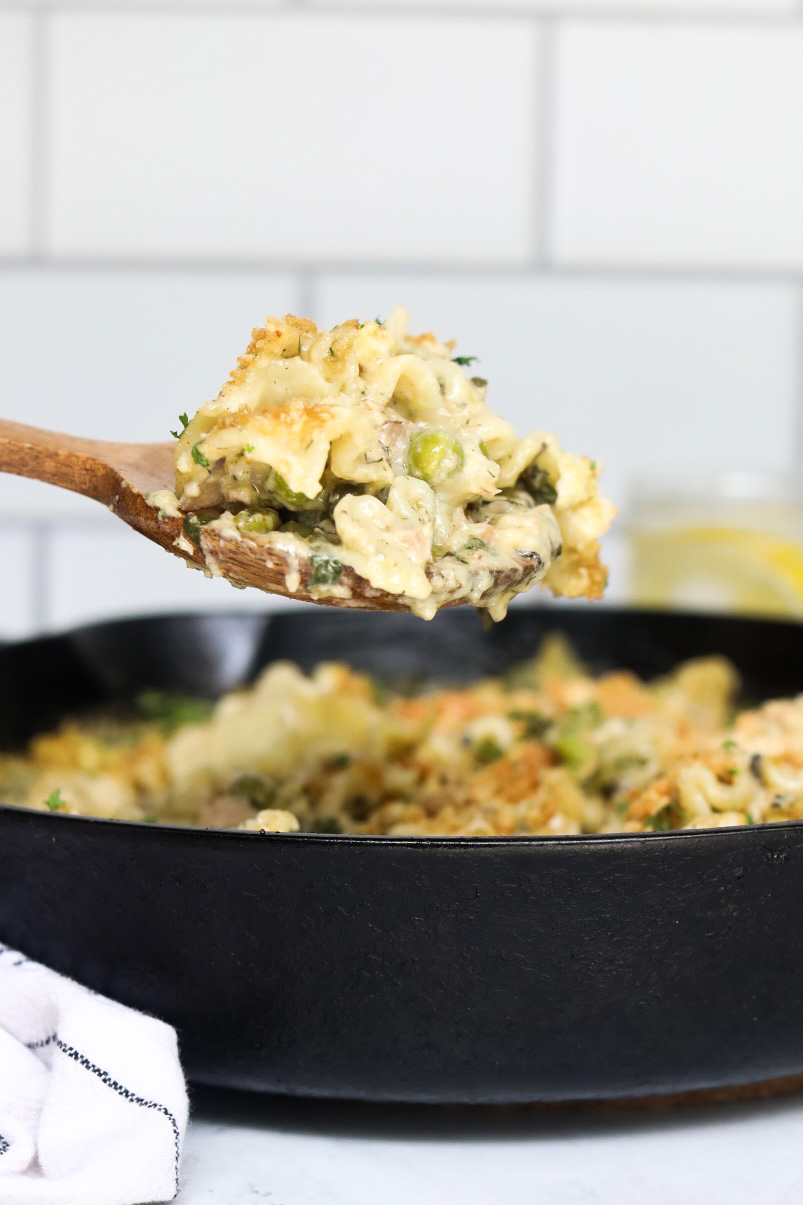 Ingredients
This tuna noodle casserole recipe with cheese allows you to take pantry staples to make culinary magic!
Pasta. I use taccole pasta.
Butter. Split it in half.
Aromatics. Use shallot and garlic as a delicious base of flavor for this casserole recipe.
Mushrooms. Sauté this with the shallots and garlic. You can use onions instead of shallots if necessary.
Flour. This thickens the sauce.
Stock. You can use either vegetable stock or chicken stock.
Whipping Cream. Add this to make the creamy sauce.
Dijon mustard. This adds a pop of zesty flavor.
Seasoning. Celery salt, lemon pepper seasoning
Dried dill. This adds herby flavor.
Capers. Although these are optional, they pair well with the canned tuna and create a rich cream sauce.
Spinach. For added nutrients.
Tuna. Use your favorite brand.
Green Peas. Add frozen peas for a pop of color and a nice texture.
Breadcrumbs. You can use anything from panko breadcrumbs to crumbled Ritz crackers. I've even seen some recipes use potato chips and fried onions!
Cheese. I use white cheddar cheese for the sauce and parmesan cheese for the cheesy, crunchy topping.
How to Make Tuna Noodle Casserole
Prepare your ingredients, assemble the casserole, and bake it just until its golden on top.
Cook Pasta & Prepare Other Tuna Noodle Casserole Ingredients
Bring water to boil and cook pasta according to package instructions. Then preheat the oven to 375 degrees.
Prep the ingredients by roughly chopping the shallot, mushrooms, and garlic. Shred the cheese if you are not using pre-shredded.
Sauté
In a large frying pan, add half of the butter and begin sautéing the shallot, garlic and mushroom. Allow the ingredients to cook for at least 4-5 minutes until soft and translucent.
Make Cheese Sauce
Once the ingredients cook through, add the flour and whisk for one minute until flour smell cooks off. Then deglaze the pan with stock, containing to whisk until smooth and no clumps appear.
Pour in cream, dijon mustard, and one cup of cheese. Whisk until smooth and cheese sauce begins to form.
Combine Ingredients
The pasta should be ready so drain it and add it to the pan with the cream sauce. Add remaining ingredients; tuna, green peas, ½ cup of cheese, capers, celery salt, dried dill, lemon and pepper seasoning, and spinach.
Stir until ingredients are thoroughly combined.
Assemble & Bake Tuna Noodle Casserole
If transferring to a baking dish, add casserole to a baking dish. Top the tuna casserole with the remaining cheese. Mix breadcrumbs and parmesan cheese, spread evenly on top of tuna casserole. Bake until cheese is melted and golden on top and cooked through. (About 20 minutes.)
Tips and Tricks
Use blocks of cheese instead of pre-shredded cheese. It melts easier and doesn't have a grainy consistency.
Remember to drain the pasta and tuna before adding them to the other ingredients.
Cook the pasta to al dente because they'll continue to cook in the oven.
Recipe Variations
Veggies. Add more veggies to make it even heartier. Consider corn, celery, green beans, or carrots.
Cheeses. Different cheese options will work. (white cheddar, yellow cheddar, smoked gouda, mozzarella, etc.)
Canned Soup. If you want to skip the homemade sauce, opt for a can of cream of mushroom soup or cream of celery soup instead.
Pasta. egg noodles, shell pasta
Protein. Instead of tuna, try precooked shredded chicken breasts.
How to Store Leftovers
Store leftovers in an airtight container in the fridge for up to 4 days. To reheat, simply pop it in the microwave
Frequently Asked Questions
What are the best noodles for tuna casserole?
Egg noodles are the popular pasta choice for tuna casserole but any wide, hearty pasta will do. I use taccole for this recipe.
Why is my tuna noodle casserole dry?
If your tuna noodle casserole is dry, your casserole was probably overcooked. Keep in mind that most of the ingredients are already cooked before you add the dish to the oven. Do not exceed 20 minutes of baking and keep an eye on the oven after 10 minutes, just to be safe.
Can you freeze tuna noodle casserole?
You can freeze this dish. Assemble and instead of baking it in the oven, wrap it with aluminum foil and freeze it for up to 3 months. Do not bake until you are ready to consume. Add an additional 10-15 minutes to the cooking time.
I HOPE YOU ENJOY THIS EASY TUNA NOODLE CASSEROLE RECIPE!
If you try this tuna casserole recipe, I'd love to see it! Share it with me on Facebook, Instagram, or Pinterest.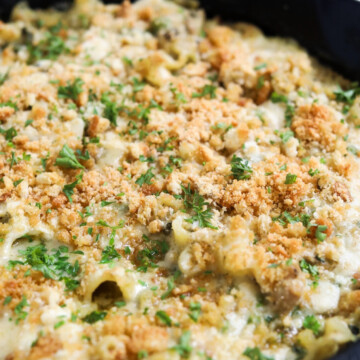 Tuna Noodle Casserole
Tuna noodle casserole is a creamy, cheesy dish with tender chunks of quality tuna, pasta, and veggies, baked to bubbly golden brown perfection. Make this meal in one skillet in just about 30 minutes for an easy weeknight dinner.
Ingredients
3

cups

pasta

taccole

4

tablespoon

butter

split in half

½

cup

shallot

1

tablespoon

Garlic

1

cup

mushroom

1

tablespoon

Flour

½

cup

Stock

Vegetable or Chicken

1

cup

Whipping Cream

1

teaspoon

Dijon mustard

2.5

cups

White Cheddar

1

teaspoon

Celery salt

1

teaspoon

Dill dried

1

teaspoon

Lemon and Pepper Seasoning

¼

cup

Capers

2

cups

Spinach

10

oz

Tuna

1

cup

Green Peas

½

cup

Breadcrumbs

½

cup

Parmesan Cheese
Instructions
Bring water to boil and cook pasta according to package instructions.

Preheat oven to 375 degrees.

Prep ingredients by roughly chopping the shallot, mushrooms and garlic. Shred the cheese if not using pre-shredded.

In a large frying pan, add half of the butter and begin sautéing the shallot, garlic and mushroom.

Allow the ingredients to cook for at least 4-5 minutes until soft and translucent.

Once the ingredients cook through, add the flour and whisk for one minute until flour smell cooks off.

Deglaze the pan with stock, containing to whisk until smooth and no clumps appear.

Pour in cream, dijon mustard and one cup of cheese. Whisk until smooth and cheese sauce begins to form.

The pasta should be ready, drain and add to pan with the cream sauce.

Add remaining ingredients; tuna, green peas, ½ cup of cheese, capers, celery salt, dried dill, lemon and pepper seasoning and spinach.

Stir until ingredients are thoroughly combined.

If transferring to a baking dish, add casserole to a baking dish.

Top tuna casserole with remaining cheese.

Mix breadcrumbs and parmesan cheese, spread evenly on top of tuna casserole.

Bake until cheese is melted and golden on top and cooked through. 20 min